April 2012 Member/Car of the Month: SOPMOD
---
Here is Your April Member/Car of the Month!!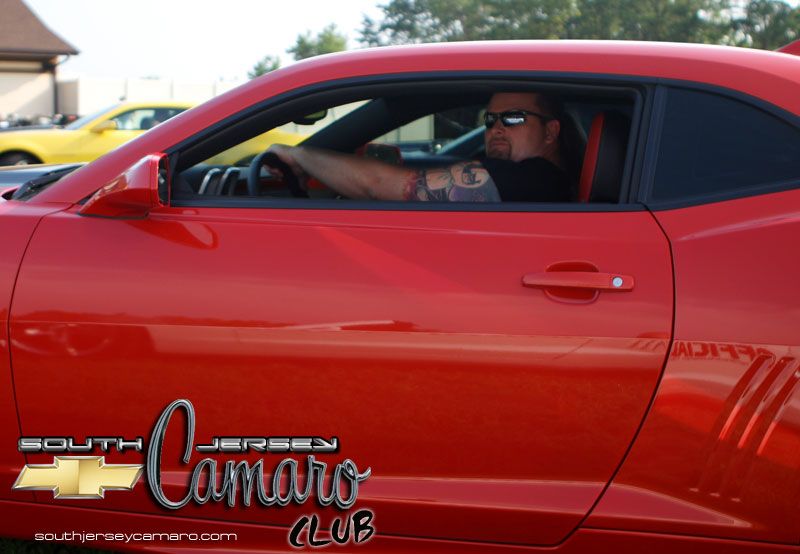 What got you started with your love for Chevy and the Camaro?
It's in the blood I guess…My very first ride on four wheels was in my Moms 1967 Camaro. That is how I was taken home after my birth in 1968. My parents purchased the Camaro new from Kardon Chevrolet the year before. It was white with a black vinyl top, red interior, 327, and a four speed. Mom drove that Camaro until I was about ten years old. I will never forget the day my Dad sold that car to a young seventeen year old kid. I tried everything I could think of to convince my Dad to keep that car for me. Looking back on it now, I know they could not afford to do that. Nonetheless, I was still disappointed. The car was totaled not long after they sold it.
Whats the Story Behind your 5thgen Camaro?
This is for you Mr. Settlemire! I stopped at Bennett Chevrolet during my lunch break one sunny afternoon in August of 2010 to look at Suburban's. While I was speaking to a salesman I noticed an IOM Camaro SS2/RS in the middle of the show room floor. I was just looking around and was not really serious about buying anything. When I got home for dinner, I started to tell my wife about the Suburban's. She stopped me and asked why I was not looking at Camaros instead? That night we went back and I ended up driving that orange SS in the show room home. About two weeks later the disease had set in and she decided she wanted to drive her own Camaro. So back to Bennett we went. We came home with a Black LS less than a month later. Her Camaro is a daily driver; my Camaro is a weekend big kid's toy. So this leads to another dilemma, my daily driver. A few months later I was offered a deal I could not pass up. Someone had traded in a Black 2004 Z06, yes it was too good to pass up. So my "Beater" is the Corvette, it's just not a Camaro. Yea yea, I know I'm upsetting all of the Corvette crowd.
How did you come across ModernCamaro.com and what made you stick around?
I found Modern Camaro through other members. This forum is a great source for information and helps all of us stay up to speed on the topics important to our Camaro community.
How did the Camaro or Chevy in general change your life?
Many have said it before me. I have met some really intriguing people since I purchased my 5th gen Camaro. I have made some lifelong friends. Out of those friendships grew a formal Camaro organization named South Jersey Camaro Club. The club continues to grow and has taken on a life of its own. In the past seven months we have more than 70 active members and it grows daily. SJCC is a nonprofit and through the club the members contribute to our local communities while enjoying comradeship and our hobby. The Camaro continues to attract enthusiasts from all walks of life and I am proud to be part of the community.
Finally do you have anything you'd like to say to ModernCamaro.com members or anyone else reading this interview?
I would like to dedicate this honor to the officers & members of South Jersey Camaro Club. Thanks to my fellow South Jersey Camaro Club members who voted and also, JLUGO, obxbill, Camaro Scotty, and anyone else I forgot to mention.
I would also like to thank Bobby, BillySpeed, Steve (Checkers), Matt (Tune Time Performance), Jeremy (Air Lift Performance), Craig (Twisted Fabrication), Nick (Black Horse Pike Auto Body), Nick (American Racing Headers), Chase (Apex Motorsports), and Dennis (Double D Mods).
Never forget all the veterans who, at one point in their life wrote a blank check made payable to "The United States of America" for an amount of "up to and including their life. "That is Honor, and there are way too many people in this country who no longer understand it."
SOPMOD...OUT!
El Presidente
South Jersey Camaro Club
---
June 2015 MOTM

"I live my life a quarter mile at a time, For those ten seconds or less, I'm free.
Member
Join Date: Jun 2011
Location: Garner, NC
Posts: 142
Congrats dood!
---
K&N Typhoon CAI * Flowmaster American Thunder cat-back exhaust * Hurst Short Throw Shifter * Black Phantom Grille * Pioneer AVH-P8400BH - Scosche Dash Kit - Rockford Fosgate 3Sixty.3 - Rockford Fosgate T1000-1bdCP, T400-4, T1D215, T1692, T2652-S - SubThump 15" Camaro box - Dynamat Extreme - Stinger & Kicker RCA's - Monster, Tsunami, Streetwires, Scosche, and Kicker wiring - Stinger Distribution blocks - Tsunami Breakers - Tsunami and Rockford Fosgate set screw terminals
Congrats SOPMOD and thanks for sharing your story!
---
jlugo, Darkrider, Thank You!

SOPMOD...OUT!
---
"GET UP THERE! You can't lead from the REAR!"
Veteran Member
Join Date: Oct 2008
Location: Wetumpka, Alabama
Posts: 8,645
Congrats well deserved and another great write up
---
2014 2LT/RS with spring edition package. Proud Litho Owner #28.
Congrats SOPMOD...Nice write up!! Welcome to a elite group of people here on Modern Camaro. We need to hook South Jersey Camaro Club and 5th Gen Camaros of the Carolinas up for a big event someday.
---
JANUARY 2012 MODERN CAMARO MEMBER OF THE MONTH
JUNE 2012 CAMARONEWS.COM CAR OF THE MONTH
http://5thgencarolinacamaros.webs.com/
Veteran Member
Join Date: May 2009
Location: Crestview Fl
Posts: 2,495
Congrats, glad you won and thanks for the other insite you provided awhile back.
RAS
---
2013 LT2/RS, Crystal Red Metallic, TAZ Jr.
2016 H-D Ultra Classic, Black Fire Purple, (PPE)
2015 H-D Street Glide, Superior Blue. (Old Blue) Traded
2012 Big Horn, RAM, Crew Cab, SLT, Dark Cherry Red Pearl (Betty Boop)
1998 Honda Accord 2d, daily driver.
Premium Member
Join Date: Aug 2008
Location: Pennsylvania
Posts: 6,229
Congrats! You worked hard to get this!

It's good to see a fellow vet get some recognition.
---
James 1:25 Ordered from Faulkner Chevy #NKCF02 1100 5/8/9 2000, 3300 7/16/9 TPW 7/20,GOT MY (low) VIN! 4000 7/24/9 ,Picked up 8/7/9!!! Signed Litho #45. Car signed by FBodfather 2011. Service: Jennings Chevy in PA. We don't "drift", kiddies... we
POWER SLIDE!
MOTM/COTM Sept 2012
Pro Patria Vigilans
.
Click the pic.. I don't tolerate fools.
---
Last edited by patriotpa; 04-19-2012 at

07:49 PM

.
All,
Thank you again!
Camaro Freak: We will be at the Camaro Nationals in June so if any of you will be there we can hook up then.
All: If any of you would like to make the trip to our Camaro only show in September you are more than welcome. The show was a huge success last year.
We raised about $4,000 and donated the money to a local Veterans home.
Dyno, T-shirts, Give aways every 15 min, We had 10k in silent auction items, Mr. Settelmire escorted the American Pride Camaro, 1st 2nd 3rd place trophies all generations, Kids choice trophy, Live radio Broadcast and much much more!
Plenty of Hotels and food in the area, Atlantic City is just accross the bridge.
SOPMOD...OUT!
---
"GET UP THERE! You can't lead from the REAR!"
Posting Rules

You may not post new threads

You may post replies

You may not post attachments

You may not edit your posts

---

HTML code is Off

---