July 2014 Member/Car Of the Month: Sandman
---
MODERNCAMARO
JULY MEMBER/CAMARO OF THE MONTH
Sandman
Congratulations Sandman! You are the July Member/Car of the Month here at ModernCamaro.com
Thank you Envy and ModernCamaro.com for the honor. This is an impressive group to become a part of. Many thanks to maroluvr and patriotpa for the nominations and to those who voted for me.
We all want to know a little more about you and your Camaro so I have a few questions for you...
Will you share with us what began your love for cars and/or the Camaro specifically?
My love for cars started with the first car I owned. It was a '69 Chevy Impala with the 427. When I got her in 1987 she was in good shape, silver with a black vinyl top and running on a set of corvette rims. Back then, Montana really didn't have much of a daytime speed limit. The Impala and I took full advantage of this for the next six years. As a rebellious teenager, this large silver beauty meant freedom on the open road . I threw the best Pioneer tape deck I could afford into her and we tore across the state with big hair rock bands screaming from the rolled down windows (it also served to scare most of the deer away). Thankfully gas was under a dollar a gallon because the silver boat got roughly 8-12 MPG.
The Impala and I made several trips to Chicago and back (Rolling Meadows, Arlington Heights). It was large enough to serve as a makeshift apartment for a couple months. The car was driven hard and I ended up overhauling the 427 twice along with replacing the transmission. I have been a gear-head every since. I have owned and drove many cars, but Chevrolet has always called to me.
In '99 I jumped back into the pony/muscle car world with a 35th Ann. Mustang GT. It was a stick and fun to drive. I kept her until I saw the 5th Gen Camaro design and knew eventually I would trade it in for the new Chevy SS.
Please share with us the story behind your 5th Gen Camaro?
The 5th Gen caught my eye in the movie but I didn't entertain the purchase until a few years later when I read up on the power gains and rebirth of affordable cars with HP. After a couple months of internet searching, a dealership tracked down a V8 45th. The stars eventually aligned and I traded the 35th Stang in for the L99 45th Ann. Camaro SS/RS. As much as I enjoy manuals, with the ridiculous traffic we have an auto is far more practical (the paddle shifting helps). It was a great decision and I've had a perma-grin on every time I fire her up.
Our Daughter is on her way to becoming a car enthusiast and already is making plans on owning her father's car (She's 6). One of her favorite games is the "Not as cool" game. She spots other sports cars and lets me know they are 'not as cool' as the Camaro. Makes me smile every time.
How did you discover ModernCamaro.com and what has kept you here?
While I appreciate those who love the 5th Gen exactly how it is, one thing I enjoy about it is the ability to mod it, shape it, and make it truly yours. I found Modern Camaro via search engine while tracking down various mods and joined. This site has a level of maturity and civility that is hard to find and then maintain. The community is helpful, has a good sense of humor, and pretty laid back. I stick around because the members are great. If I can provide a smile or laugh for someone at the end of a tough day - I can pay it forward for the help and entertainment the site has provided me.
And finally, do you have anything you'd like to add to the ModernCamaro.com members or anyone else reading this interview?
I would again like to thank everyone who voted for me and tip my hat to S.C ZL1 who was also up for the award this month. For those visiting this site who are contemplating joining ModernCamaro.com, jump in, stay awhile and welcome to one of the best car sites on the web.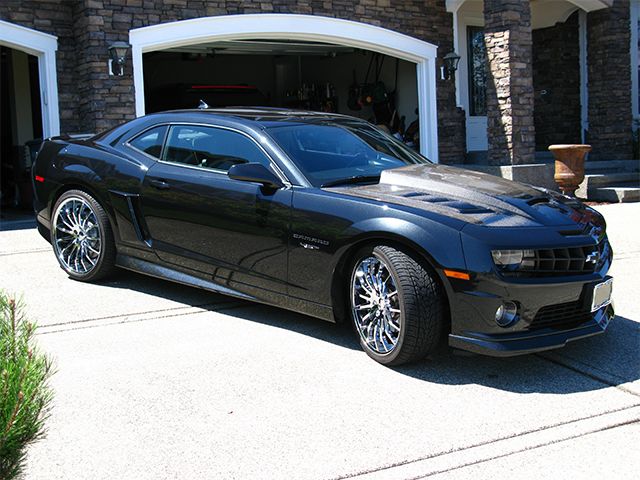 Premium Member
Join Date: Aug 2008
Location: Pennsylvania
Posts: 6,229
Congrats!
Well deserved!
---
James 1:25 Ordered from Faulkner Chevy #NKCF02 1100 5/8/9 2000, 3300 7/16/9 TPW 7/20,GOT MY (low) VIN! 4000 7/24/9 ,Picked up 8/7/9!!! Signed Litho #45. Car signed by FBodfather 2011. Service: Jennings Chevy in PA. We don't "drift", kiddies... we
POWER SLIDE!
MOTM/COTM Sept 2012
Pro Patria Vigilans
.
Click the pic.. I don't tolerate fools.
Veteran Member
Join Date: Oct 2008
Location: Wetumpka, Alabama
Posts: 8,645
Congrats nice write up and cool picture
---
2014 2LT/RS with spring edition package. Proud Litho Owner #28.
Congrats Sandman ... good deal
---
2012 2SS / RS CRT; Additional Options: Highwing Spoiler, Sunroof, Window Tint, Splash Guards, Wheels, Nitro, Heritage Grill, MRT Louvers, Ported Throttle Body, Cold Air Inductions CAI, RX Sport Hood, someone's splitter, River City Strut Bar
Born On: 13 April 2012; Purchased: 27 August 2012
Member
Join Date: Nov 2010
Location: Lees Summit Mo.
Posts: 474
Congrats and your welcome! You've brought alot of entertainment to the site. Welcome to the club!
Ps. Your daughter is a little cutie!
---
November 2013 MOTM
Veteran Member
Join Date: Aug 2013
Location: Sin City AKA Las Vegas....baby!!!!!
Posts: 1,465
Congrats.....great write up....WELCOME to our MOTM group
---
2013 2LT/ RS Blue Ray Metallic VERT..."Cami"
2010 Grabber Blue Mustang VERT......."Stella Blue"
January 2014 MC Member of the Month!
Senior Member
Join Date: Jan 2011
Location: Jersey
Posts: 808
Congratulations
---
Dodger
http://www.southjerseycamaro.com
ModernCamaro Member/Car of the Month: May 2012
Senior Member
Join Date: Apr 2012
Location: Northern Vermont
Posts: 533
Congrats sandman,well deserved
---
May 2014 MC Member of the Month!
Posting Rules

You may not post new threads

You may post replies

You may not post attachments

You may not edit your posts

---

HTML code is Off

---