Signature & Avatar reminder
---
Any sigs or avatars containing political or religious content will be removed.
---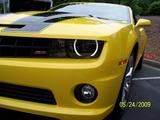 2010 Camaro RS SS LS3 (Bumble Bee) Vin#192 & 8 others made by GM and one Christine
Join Date: Apr 2009
Posts: 10
Guest
Join Date: Oct 2009
Location: HOUSTON, TX.
Posts: 19
Testing 1..2..3.. Check.... Check... Is this thing working...
Uhmmm, I don't think that this thing is working... Check... Check...
Hello! Is there anybody out there.
Just nod if you can hear me...
---
Fly Low and avoid the radar
Senior Member
Join Date: Dec 2009
Location: Chicago, IL
Posts: 560
So, what you are saying is, that if I put that "I will Vote for the Camaro Gods in the next election" in my sig, it will get deleted?