ModernCamaro.com Founder / Former Camaro Disciple
Join Date: Jan 2006
Location: Chicagoland, IL
Posts: 11,842
Over 2000 Members strong!
---
Today 5thGen.org welcomed its 2000th member!
The first thousand took 1 year, 8 months.
The second thousand took just 9 months.
I am trying my best to think of new topics to post in the "lounge" area to stir up discussion. I always tell people to check the site out, too.

This is the best 5th gen site and I can't wait to contribute even more when I have the **** car in my possesion!
ModernCamaro.com Founder / Former Camaro Disciple
Join Date: Jan 2006
Location: Chicagoland, IL
Posts: 11,842
We appreciate your efforts! Thanks!
As the countdown increases I'm sure the regular posting will as well.
---
2000 Red 1SC Z28 A4 - dead for now
2005 Black GTO M6 6.0 - Split daily driver
1987 Silver Fiero GT - Split daily driver
Very nice
The new members have been coming in increasing numbers. This is the site to be on for the best info.

Wait until the actual release and owners start driving off the lots.
Sweet... That makes us very happy here in Oshawa. The more members here at 5thGen , the future of Camaro keeps looking better.
what else could anyone expect from the only 5th gen site that has the focus group peeps always checking in.
---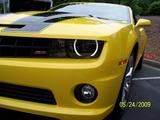 2010 Camaro RS SS LS3 (Bumble Bee) Vin#192 & 8 others made by GM and one Christine
Join Date: Jun 2008
Posts: 50
I imagine this site will only get better when we actually own 5th gen Camaro's.
Posting Rules

You may not post new threads

You may post replies

You may not post attachments

You may not edit your posts

---

HTML code is Off

---