If you look close, (black car really hides this), the lower fascia is slightly modified. The upward facing "psuedo air dam" shape is actually extended and the region below it is cut out to continue the shape of the existing lower opening. That would be a urethane add-on. As you can see, I added a hide-away grill insert and spoiler. If this stuff isn't available through the dealer as an option, I may just fabricate them and attempt to market them as a body kit. Who knows how little time I'll have when/if I buy one.

Thanks for the compliments!
Quote:
I hope you can get on without the wierd hoodscoop!

Photoshop looks great!
man that hood scoop is awesome....it makes it look more mean
looks good.
---
~Travis~
90 RS-383HSR, T56, NX wet kit
01 LB7 Chevy 2500 4x4. Programmer, 3" lift on 35s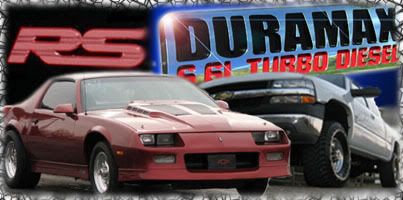 Join Date: Jan 2006
Posts: 187
Quote:
man that hood scoop is awesome....it makes it look more mean
But dooes it have a ram air tyoe scoop or cowl induction? Looks like both to me and I pick cowl induction (as if I had any say)!
---
2006 Dodge Charger Daytona

Top Banana! 0653 of 4000
I got rid of that stupid looking "ram air" hole on the front of the cowl induction scoop. I think that's the first thing everyone does with these things as far as chops and design mods.
Holy crow batman that is awsome! I was thinking red/black or blue/white but I love that black/red. Man they need to hurry up so i can make my decision.

I don't like the ram air hole as well I'd do a cowl induction as well and probably a billet grille.

Would it be possible for me to use that as my avatar on another forum? Watermarks kept of course.
---
2000 Red 1SC Z28 A4 - dead for now
2005 Black GTO M6 6.0 - Split daily driver
1987 Silver Fiero GT - Split daily driver
Join Date: Oct 2007
Posts: 132
Can I get a wallpaper of the Bumblebee Camaro?
Posting Rules

You may not post new threads

You may post replies

You may not post attachments

You may not edit your posts

---

HTML code is Off

---