New Orleans, Lake Front on Sundays.
---
On Sunday after noon around 3-4 maybe 5 or so there are several cars that meet at the West End part of the Lake Front. Most of the cars are Mustangs and I'm the only Camaro in the crowd so it would be nice for a few more to show up oh the Mustang guys there are pretty cool friends. Any ways maybe Ill see a few more Camaro's out there ? Where in the first lot after the old Joe's Crab Shack.
---
Mods: K&N CAI, Magnaflow Magnapack, Diablo Intune.
Contact Selena Sunset Hawk . You have the Gulfsouth Firebird and Camaro club right in your own backyard. We used to hang out on the lakefront on Sundays. Good luck!
---
94 Firebird Formula (Drowned 8/30/05) RIP
2010 Camaro SS IBM 2SS/RS, 6M, ADM CAI, Borla Type S Cat Back, VMAX Ported TB, LG Short Throw Shifter, Hotchkis Max Chassis Brace, BC Racing Coilovers, Hotchkis Sway Bars, Whiteline Cradle Bushings.
We stopped going out when the idiots showed up with 4 wheelers and started ride thru the lot fast attempting to do tricks. At some point one of them will wipe out and there was no telling what else would get damaged. Not sure if they still go and are allowed to do that crap.
---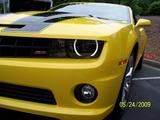 2010 Camaro RS SS LS3 (Bumble Bee) Vin#192 & 8 others made by GM and one Christine
I have not seen any of that anymore, they had moved to the east with all that crap.
---
Mods: K&N CAI, Magnaflow Magnapack, Diablo Intune.