600 Limited Edition
---
2010 Camaro 1LT Limited Edition.. this is a dealer installed option for the Carolina area... there are 100 of these cars made for the following years: 2010,2011,2012. they are primarily sold a couple of weeks before the Coke Cola 600 Race in Charlotte,NC. Yes I know that its a dealer installed option but the designers of this option pack are the same ones that do the Honor and Valor edition...
I have had this car since last of April 2010 and currently have under 12k miles. even guys in thier SS camaros admire it.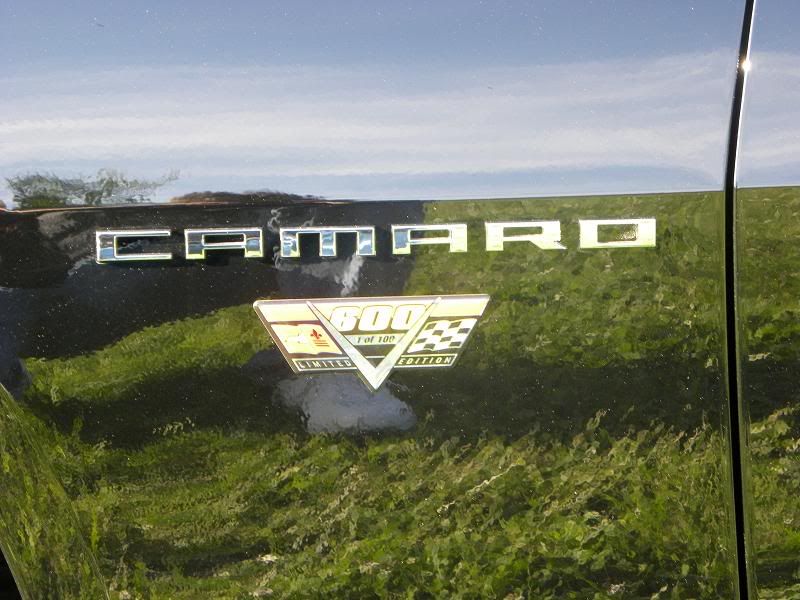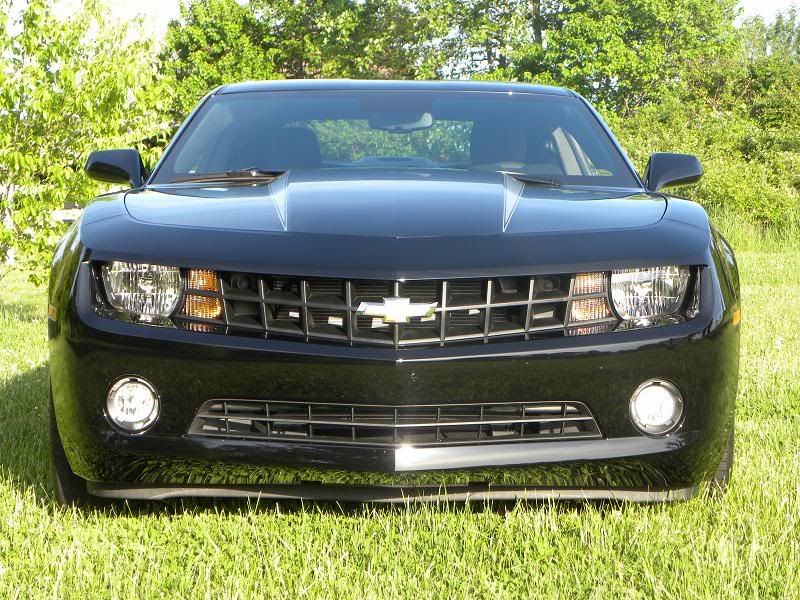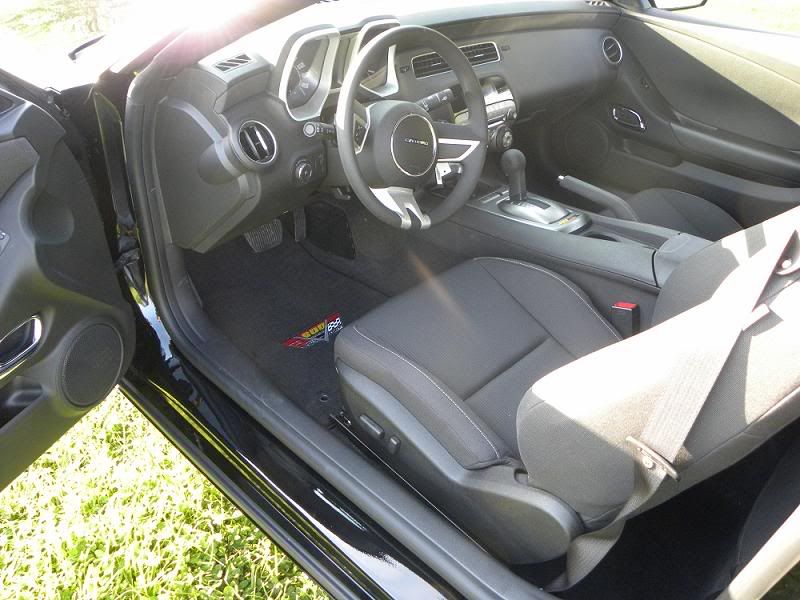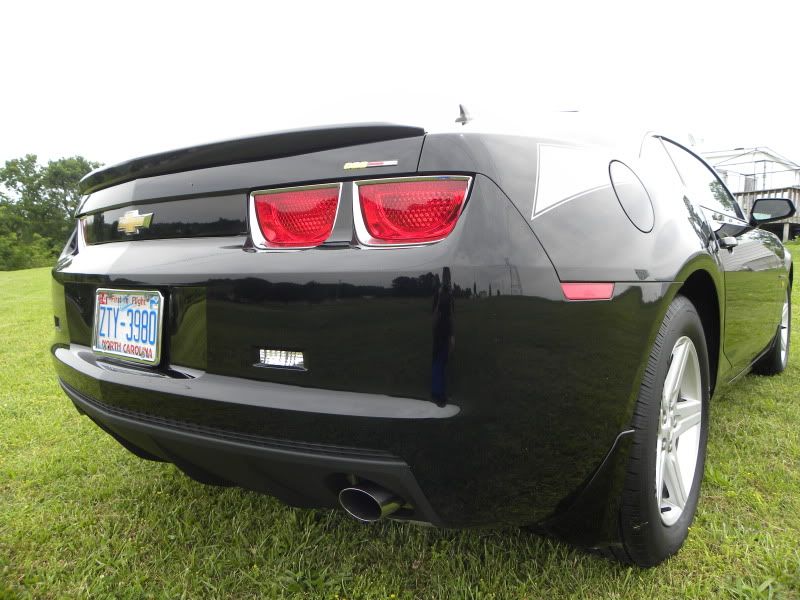 I chose this car because the dealer didnt have what i really wanted on the lot... I wanted just a plain 1LT with auto and in black... the dropped the priced of the 600 Edition and than as they asked me to sign the contract I dropeed a supplier discount in thier lap.. getting it roughly 4k under thier asking price...
Veteran Member
Join Date: May 2009
Location: Crestview Fl
Posts: 2,495
Good way to do it. I got a good deal on mine as well.
---
2013 LT2/RS, Crystal Red Metallic, TAZ Jr.
2016 H-D Ultra Classic, Black Fire Purple, (PPE)
2015 H-D Street Glide, Superior Blue. (Old Blue) Traded
2012 Big Horn, RAM, Crew Cab, SLT, Dark Cherry Red Pearl (Betty Boop)
1998 Honda Accord 2d, daily driver.
Premium Member
Join Date: Aug 2008
Location: Pennsylvania
Posts: 6,223
So...what makes this limited edition different from a standard 1LT besides badges and floor mats?
---
James 1:25 Ordered from Faulkner Chevy #NKCF02 1100 5/8/9 2000, 3300 7/16/9 TPW 7/20,GOT MY (low) VIN! 4000 7/24/9 ,Picked up 8/7/9!!! Signed Litho #45. Car signed by FBodfather 2011. Service: Jennings Chevy in PA. We don't "drift", kiddies... we
POWER SLIDE!
MOTM/COTM Sept 2012
Pro Patria Vigilans
.
Click the pic.. I don't tolerate fools.
I assume the same exact thing that would make the Indy 500 pace car rare.... It's built for the 600 at Lowes Motor Speedway. I'm sure it came with some sort of paperwork or documentation. That right there is what would make it different from your normal 1LT.
Newbie
Join Date: Jul 2012
Posts: 2
I love my CC600 Camaro
---
Hi "Rarebird",
I am new to this message board but not new to Camaros. My dad retired from GM so of course all of our vehicles growing up had to be GM. I was always more of a Firebird person, but I did own some Camaros and was really glad to see them bring the Camaro back.
I traded in my Mustang for a Camaro, not knowing what was in store. I told the dealer exactly what I wanted in a Camaro (red, automatic, 1LT, grey cloth interior). I live in Georgia and evidently, they are hard to find, the ones I looked at had black interior or beige but I had my heart set on Grey cloth. So, the dealer put out a search and found one in Charlotte NC. When it arrived, the whole dealership was surprised because they had no idea it was a Coca Cola 600 Edition and so was I ! We don't have these in Georgia and boy do I get alot of questions even from Camaro owners!!!
I spoke with the dealer up in Charlotte where the car came from and he acted like it wasn't a big deal up there
But it sure is in Georgia.... So glad to find this message board because i'm still not sure about these cars, but I LOVE, LOVE, LOVE mine ! I hope the picture comes over.
Newbie
Join Date: Jul 2012
Posts: 2
PS...I chose a Mustang because at the time my Firebird was dying a slow death and the Camaros weren't out yet....glad they are back!
as I said its a dealership installed option. did I pay extra for my option.... NO.. I paid well under MSRP on my 1LT. will it bring the attention the Yenko, RS/SS, not hardly. its a personalization kit that a few dealerships in the carolina area got together to hire this group to design and produce. yes you can order the decal kit from the supplier directly, but unless you have the documentaion from the dealership its just another dressup kit.
Do you remember the MACHO Trans Am
the FIRE AM
.... these were a small group of cars bought by a group and designed by them to inhance the performance or looks of the Trans Am... In the 2nd Gen Trans Am world these are highly sought after... the Fire Am was not a nationally known setup... but its currently the most revered.
will the 600 make it to these ranks.. as I have said not likely... just thought I would show others there are other "differant", dealership modified camaros. I just chose to purchase one that already had a differant appearence than most out there.
---
Last edited by Rarebird; 07-12-2012 at

06:09 PM

.