ModernCamaro.com Founder / Former Camaro Disciple
Join Date: Jan 2006
Location: Chicagoland, IL
Posts: 11,842
Wow, that thing is SUPER detailed!
$90 is gonna take some convincing, but I might have to have one of those hehe.
****, 1:14 scale - I'll buy one for sure
Supporting Member
Join Date: May 2006
Posts: 178
Thanks R-Type and Chugg.
That car IS a must. Just for the coolfactor. Some of these collectibles are in that range just for the car and nothing else. This turns into a Robot.

Very cool!
---
1994 Z28
Autobot
I would like to thank the person that came up with these fine avatar and signature's.

This is excellent
---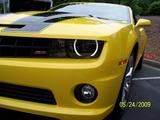 2010 Camaro RS SS LS3 (Bumble Bee) Vin#192 & 8 others made by GM and one Christine
****... now i need to add a whole new room to the house for the camaro collection
---

*A Cars Only Purpose Is To Get From Point A to B. I Just Rather Get There In 13.2 @ 106
* Going Mustang Hunting... Be Back In 12 Seconds
www.fquick.com/Naute
<---- That's Me
http://fn-fasttown.myminicity.com
**** nice.
---
2000 Red 1SC Z28 A4 - dead for now
2005 Black GTO M6 6.0 - Split daily driver
1987 Silver Fiero GT - Split daily driver
Yep - this one is a must have