Camaro / Transformers commercial
---
SWEEEEEEEET
---
2010-2SS/RS/LS3/IBM/RP6:
ECS-Paxton Supercharger / American Racing Headers & Exhaust / PFADT Suspension / DSS 9" 4.10 Rear / FOR SALE!
Quote:
Powerfreak is the only one who actually understood anything.
Nice!
---
2SS/RS Cyber Grey Metallic with Black Racing Stripes, Black Leather, and Sunroof. Driving it
Daily Driver: 2004 SS Silverado Victory Red with K&N Intake, Magnaflow Exhast, and Edelbrock Headers
Veteran Member
Join Date: Oct 2008
Location: Wetumpka, Alabama
Posts: 8,645
Thats nice real nice.
---
2014 2LT/RS with spring edition package. Proud Litho Owner #28.
Join Date: Aug 2007
Posts: 646
doh someone needs to post that on fquick so I can see it **** work blocks youtube
---
2000 Red 1SC Z28 A4 - dead for now
2005 Black GTO M6 6.0 - Split daily driver
1987 Silver Fiero GT - Split daily driver
awesome video
---
GTFO of here with your ricer math
AWESOME!!!!
---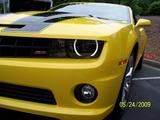 2010 Camaro RS SS LS3 (Bumble Bee) Vin#192 & 8 others made by GM and one Christine