Bumblebee test shot sells on ebay
---
Dammit, it would have been nice for them to use some basic keywords in this auction like CAMARO and CONCEPT - they would have had more bidders - including me
I just posted this to my blog today -
http://5thgencamaro.blogspot.com/
Test shot of Bumblebee toy sells on ebay
It looks like a prototype/test shot of an upcoming Bumblebee Transformers toy recenlty sold on ebay for $100. My searches for Camaro Concept items would not have caught this one, if it had I would have been the high bidder.
Click
here
to see the closed auction on ebay as well as the images.
I see there is a pre-order for a new version of this figure on ebay today for $119.00 plus $38 shipping - I think I'll wait a while on this one
ModernCamaro.com Founder / Former Camaro Disciple
Join Date: Jan 2006
Location: Chicagoland, IL
Posts: 11,842
Wow, what scale is that?
I'll probably pick one up eventually, but I'm with you... wait till the price settles down first.
would of been nice to get but ohh well.
---
1994 Z28
Autobot
I would like to thank the person that came up with these fine avatar and signature's.

Its only a matter of time. I'm sure once the movie comes out walmart will be full of toy versions. Its kind of exciting to see this.
---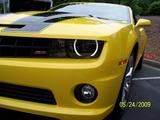 2010 Camaro RS SS LS3 (Bumble Bee) Vin#192 & 8 others made by GM and one Christine