Junior Member
Join Date: Jun 2007
Location: Toronto, Ontario
Posts: 45
ModernCamaro.com Founder / Former Camaro Disciple
Join Date: Jan 2006
Location: Chicagoland, IL
Posts: 11,842
Oh man, that is SWEET!

I wish there was something like that around here!!
**** is that just in Canada??
---
1994 Z28
Autobot
I would like to thank the person that came up with these fine avatar and signature's.

Junior Member
Join Date: Jun 2007
Location: Toronto, Ontario
Posts: 45
7 out of 10. Pretty much non-stop action from beginning to end. It was a good action flick. And definately setup for a 2nd movie. I recommend anyone thinking about seeing this to see it on a large screen. The action sequences are just amazing.
However, I've forgotten how much I don't like the drive-in experience.
First off, The Docks drive-in is gravel. Not good. The gravel is a fine gravel. Which means lots of dust. I couldn't believe the amount of dust on the car. I had to use my wipers a couple of times to clean the windshield.
2nd. The cars around me. Why is it that large vans, not the mini vans, have to park right in front of me. I had to move 3 freaking times so I can see the screen. And what is it with the flags on the cars. They too were in the way.
3rd. And why do the marijuana smokin idiots have to park next to me as well. Hell, one guy had more steel in him (piercings) than the transformers put together.
Sorry about that.
The Ontario Camaro Club had a few cars there as part of the promotion. You can see some pics
here
. I'd love to get my hands on these banners tho.
nice!!!
---

*A Cars Only Purpose Is To Get From Point A to B. I Just Rather Get There In 13.2 @ 106
* Going Mustang Hunting... Be Back In 12 Seconds
www.fquick.com/Naute
<---- That's Me
http://fn-fasttown.myminicity.com
Join Date: Mar 2007
Posts: 135
Im goin to my local drive-in which has TRANSFORMERS!!
I wouldn't even know where the closest drive in would be from here. They are extinct here.
---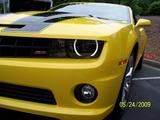 2010 Camaro RS SS LS3 (Bumble Bee) Vin#192 & 8 others made by GM and one Christine