I saw on HBO today
---
HBO is suppose to have on this wed the making of transformers
---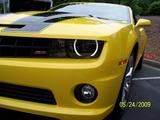 2010 Camaro RS SS LS3 (Bumble Bee) Vin#192 & 8 others made by GM and one Christine
ModernCamaro.com Founder / Former Camaro Disciple
Join Date: Jan 2006
Location: Chicagoland, IL
Posts: 11,842
DOH! I don't have HBO.
Join Date: Mar 2006
Posts: 572
Join Date: May 2007
Posts: 170
Well some TF site will have it. When they do I or someone will get it here
---
1994 Z28
Autobot
I would like to thank the person that came up with these fine avatar and signature's.