ModernCamaro.com Founder / Former Camaro Disciple
Join Date: Jan 2006
Location: Chicagoland, IL
Posts: 11,842
Transformers: Soundtrack!
---
Man, they used some really great music in this movie!
This makes me even more excited to see it.
Bands featured are:
Linkin Park, Smashing Pumpkins, Disturbed, The Used, Goo Goo Dolls, HIM, Taking Back Sunday, Styles of Beyond, Armor For Sleep, Idiot Pilot, Julien-K, and a neat version of the Transformers Theme Song by Mutemath.
Check it out online and listen to some song samples - good stuff!!
http://www.transformersalbum.com/
I'm gonna have to check it out. Wait until I post a picture of something I framed tonight.
---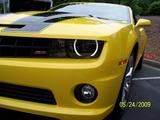 2010 Camaro RS SS LS3 (Bumble Bee) Vin#192 & 8 others made by GM and one Christine
DISTURBED! LinkinPark!....... This movie is gonna be Awesome! What more can anyone want .... 5th gen!, Robots battaling, Kickass Music! and i believe theres a few good actors in there
---
Quote:
and i believe theres a few good actors in there
ohh yes
http://youtube.com/watch?v=rSVdjKXmVDo
---
1994 Z28
Autobot
I would like to thank the person that came up with these fine avatar and signature's.

Soundtrack was just like the movie, Awsome!
---
2000 Red 1SC Z28 A4 - dead for now
2005 Black GTO M6 6.0 - Split daily driver
1987 Silver Fiero GT - Split daily driver
tis it was... linkin park's what i've done isn't played enough on the radio
best song and the video is awesome. it's my ring back tone for verizon, haha.
---

*A Cars Only Purpose Is To Get From Point A to B. I Just Rather Get There In 13.2 @ 106
* Going Mustang Hunting... Be Back In 12 Seconds
www.fquick.com/Naute
<---- That's Me
http://fn-fasttown.myminicity.com