Transformers Picture
---
The wife found this at hot topic. They are 2 individual pics, but look good together.
---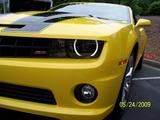 2010 Camaro RS SS LS3 (Bumble Bee) Vin#192 & 8 others made by GM and one Christine
those do look nice..what could be cool is to frame them seperate and have them opposite eachother..since it looksl ike there is a little difference in the coloring of the two..but never the less bad ass
---
1994 Z28
Autobot
I would like to thank the person that came up with these fine avatar and signature's.

ModernCamaro.com Founder / Former Camaro Disciple
Join Date: Jan 2006
Location: Chicagoland, IL
Posts: 11,842
That is awesome!
Join Date: Mar 2006
Posts: 572