Predict the plot for Transformers II
---
O.k. based on record-breaking sales, you can pretty much guarantee there will be a sequel, probably a third, and then a prequel.

So what do you all think will happen in part II?

I think starscream will lead another another attack on earth and the autobots including new decepticons like soundwave and the constructicons.

I think this will lead the autobots into creating the dinobots to fight the constructicons and probably resurrect megatron as galvatron to fight starscream.

What do you all predict????
---
1998 White Buick Regal GS
2002 Electron Blue Corvette Coupe
2007 Honda Accord Coupe
2009 Silver Metallic Chevy Tahoe
2011 Convertible Camaro SS comming soon!
Join Date: Jul 2007
Posts: 97
Unicrom will show up to eat earth, and they will revive megatron.....
Join Date: Jun 2007
Posts: 1,246
Well I think Galactus is going to......


Oh wait.......
Dunno I wanna see more Bumblebee vs Barricade myself
.
---
2000 Red 1SC Z28 A4 - dead for now
2005 Black GTO M6 6.0 - Split daily driver
1987 Silver Fiero GT - Split daily driver
ModernCamaro.com Founder / Former Camaro Disciple
Join Date: Jan 2006
Location: Chicagoland, IL
Posts: 11,842
I predict a title like "Transformers: Resurgance" or something like that versus "Transformers 2".
At this point, I don't have a clue. I'm sure starscream is going to come back, but they really left the movie wide open as to what other autobots will come.
---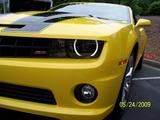 2010 Camaro RS SS LS3 (Bumble Bee) Vin#192 & 8 others made by GM and one Christine