Inside the cars and trucks from transformers
---
---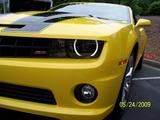 2010 Camaro RS SS LS3 (Bumble Bee) Vin#192 & 8 others made by GM and one Christine
dag! i didn't realize Michael Bay had done commercials for GM in the past. cool.
---
"All alone in my funeral home, playing in blood, there's just got to be something wrong with me" -Slayer-
Nice find.
---
1998 Camaro A4 7.06 @ 96.5 MPH NA 1.47 best 60ft
2010 Camaro Tube Chassis work in progress
cool
---
1994 Z28
Autobot
I would like to thank the person that came up with these fine avatar and signature's.