Transformers movie props on ebay
---
From:
http://5thgencamaro.blogspot.com/
If you liked the Transformers movie, now you can own part of it yourself!
Ebay seller
premiereprops7
is offering up many items claimed to be from the movie, the biggest items is the original 1977 Chevy Camaro that ends up morphing into the 5th Gen Camaro. Take a look at the Camaro auction
here
Some other items include are available here Capt Lennox's hat, signed movie posters, Allspark cube, license plates from some movie cars and more - see the items
---
Last edited by OverAnxious; 07-09-2007 at

05:50 AM

.
ModernCamaro.com Founder / Former Camaro Disciple
Join Date: Jan 2006
Location: Chicagoland, IL
Posts: 11,842
Wow, that is some cool stuff! (and HIGH PRICED!)
Join Date: Jul 2007
Posts: 97
trying to keep my wife from bidding on the dog collar.... we have 2 chihuahuas...lol
I wonder just how high 2nd gen bee is going to get
---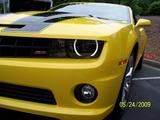 2010 Camaro RS SS LS3 (Bumble Bee) Vin#192 & 8 others made by GM and one Christine
Join Date: Jul 2007
Posts: 97
hmmm wonder if they'll sell it?
Do you mean the 5th gen? I bet they would get a ton of money for it, but I doubt they will sell it though.
---
1998 Camaro A4 7.06 @ 96.5 MPH NA 1.47 best 60ft
2010 Camaro Tube Chassis work in progress
---
Last edited by brandonppr; 07-09-2007 at

05:12 PM

.
Too soon to sell the 5th gen car(s) I'd think. They still have some promotion use for it
Join Date: Mar 2007
Posts: 49
I agree. Maybe they'll use it in Transformers 2. If they make one...
---
Last edited by XtremeBowtie; 07-09-2007 at

06:10 PM

.
Heh would be cool as sin to see the 5th on the streets!
---
2000 Red 1SC Z28 A4 - dead for now
2005 Black GTO M6 6.0 - Split daily driver
1987 Silver Fiero GT - Split daily driver