ya i'm not digging it at all
he's lost his "mean" look
---
welcome to alberta we eat cow, drill oil and rope calves
wants to push you down a flight of stairs to see if you are like a slinky or if you bounce like a ball... either way, I am quite sure I will be amused
I like the side vent better than the 3 slits on the car now. I also like the front.
---
1100: 2/23/09
2000: 8/7/09 (finally)
3000: 8/11/09 (TPW 9/14)
3300: 9/2/09
3400: 9/14/09
3800: 9/22/09 vin 48156 has been born
Senior Member
Join Date: Apr 2008
Location: Jacksonville, NC
Posts: 738
I don't care for it. it doesn't help that Megan Fox is there too. So that adds to the horrible imagine.
not nearly as aggressive looking as the last bumblebees but its nice to see thats its pretty much a production camaro instead of the concept.
maybe some of this is for the Z28? not liking the spoiler but i love the carbon fiber ground effects and splitter.
---
Brixton Forged
CM10 Wheels IN STOCK!!! RF7 SOON!!!!
Camaro/M3/M4 wheels in stock High Gloss Titanium
Veteran Member
Join Date: Nov 2009
Posts: 1,078
not a fan of the 3rd compared to the 2nd!!
Meh, i liked the first and second bumbleebee better. The 2nd one was a bit over the top, but not horrificly bad. I like the hood scoop, and think the 3rd one looks weaker without it.

I don't like the front fascia either, and the side mirrors look terrible black...and wtf is up with the roof stripes on the sides...retarded, i agree with a few posts up...looks like a GD ricer
---
I'm glad we chose to follow the 1st Bee. The second movie's bee isn't too bad. The third,,,, needs to loose the park bench.
---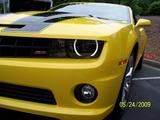 2010 Camaro RS SS LS3 (Bumble Bee) Vin#192 & 8 others made by GM and one Christine