Junior Member
Join Date: Sep 2009
Location: Hoschton GA.
Posts: 12
My '76 Bumblebee clone, SLOW going Daily Driver project
---
Hi gang. Just thought i'd start a thread, and maybe come back from time to time and update progress and whatnot. Building a clone of the old Bumblebee Camaro. I know it's not a 5th Gen, but it's really fun to kick around in, and gets a LOT of attention, even in the shape it's in now. I bought 2 seperate cars off Craigslist. one with a really great engine and trans, along with black interior pieces that were in pretty good shape, but with body damage, and a second non-running car that was a good solid platform to start building. The car was actually originally yellow, but had been repainted brown somewhere down the line.
Anyway, after putting the engine and trans into the other body, along with the Hooker Super Competition headers, new brakes, hoses, shocks, a tie rod end, various light bulbs, heater fan motor, etc, I put my rally wheels and tires off my '55 Chevy on it to run on it for a while until I buy new tires for the 15x7 Cragers I have put up new, and a set of 15x10 aluminum slot mags I bought off Craigslist for $100 to get me by for a while, since I just can't, and don't want to spend $1,300 for 2 rear wheels from Real Wheels. one day I'll get them, but the slots will be close enough to fool most people that aren't as detail oriented as I am on this.. lol
So, here it is after getting it up and running:
I applied for a personalized tag saying Bumblebee in some way, shape or form, and tried 14 different configurations before FINALLY finding one that was not taken... BMBLB33 All you stinking guys with your NEW Transformer 5th Gens hoggin' up all the tags by gosh!! GRRR .. lol, jk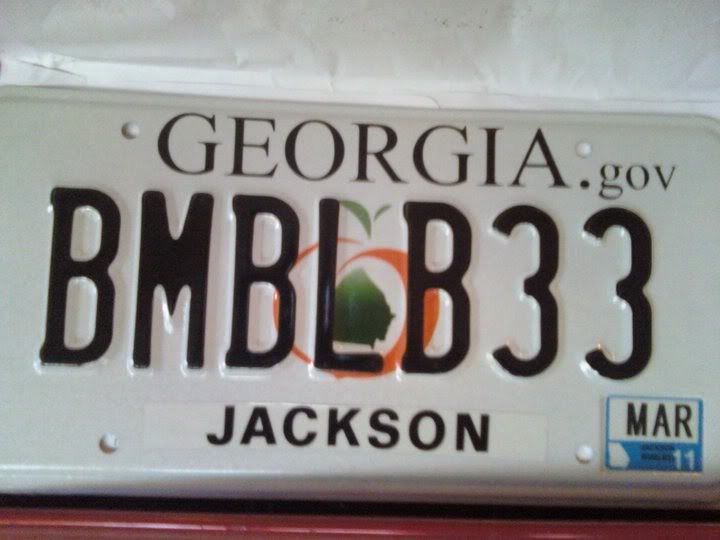 got a little wild hair and decided to see if I could paint my own stripes. Wanted to liven the car up a little since the Brown was really dulling things out BADLY. So I took and printed a front pic and a back pic from the REAL Bumblebee Camaro that is in the museum in Gatlinburg, TN, and did an eye ball style, hand tape out job. No measuring needed! lol I was actually throughly impressed with how good a job I did, without doing any more prep work than I put into it. I basically just hosed it off, rubbed it with a rag, (didnt even use soap,.lol) dried it, and started taping it out. I used 1/4" pin stripe tape along the edges, and layed them down by hand also.
After results:
Real Bumblebee:
My eyeball job:
Real Bumblebee front:
My eyeball job again:
I was so tickled with how it came out, that I decided the next day to bring the 18.8V DeWalt drill home from work, and start drilling holes in the hood for the cowl scoop. I even used the correct allen headed bolts in the correct spots as the real Bumblebee car.
Again, REAL Bumblebee:
My eyeball job: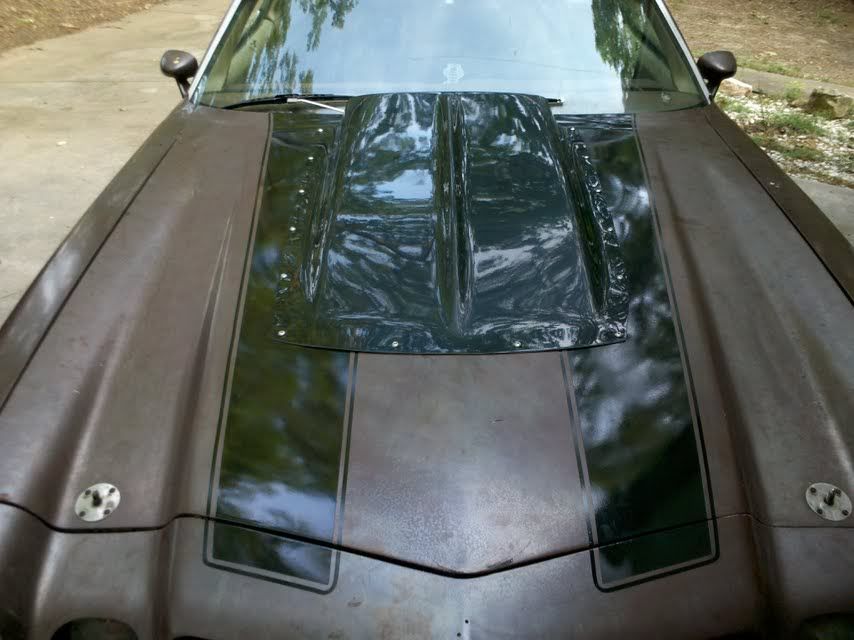 Not too bad, eh?!
Well, I had today off work, and the weather was absolutely GORGEOUS! So I took on bolting up the correct front spoiler that took me so long to investigate and find.
After spoiler installation and a quick Purple Power bath with a scrub brush:
Drove over to Autozone afterwards and bought a new set of windshield wiper blades. Thought it looked pretty good with the parklights on like it was, so I snapped a quick pic of that too.
Thinking of using Nissans "Solar Yellow" EW3 paint code, found on some of the Xterras, Frontiers, 350Z's and whatnot. What do you think?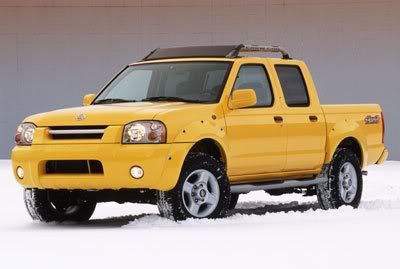 Well, that's really all for now. I have more updates, but still need to take some pictures of some of the other parts i've bought, and will continue this thread as I go if anyone is interested in seeing it come along. Hope you like it, and don't be afriad to give me some creative criticism! Thanks for looking!!
Scotty
I think it will look good when completed. Keep us posted.

It is your opinion that matters the most. Make sure it makes you happy first.
Junior Member
Join Date: Sep 2009
Location: Hoschton GA.
Posts: 12
Quote:
I think it will look good when completed. Keep us posted.

It is your opinion that matters the most. Make sure it makes you happy first.
Thanks a lot, and I'll keep that in mind! there are some things that I'm going to probably veer from the original, like the fact that my car has hood pins and the movie car did not. I thought long and hard about it, and came to the conclusion that hood pins were DEF part of the custom and style of the time of the era when Bumblebee would have been originally built up. (The 80's) I think that if the movie crew probably would have anted them too, but it would have just complicated filming. So, I'm leaving them on my car as part of my own custom touch!
But thanks again for the reply. It's an exciting project that has really got a lot of attention, especially with the little ones!
Scotty
This is looking great! It will be neat to see all the before and after pics to see how you've "Transformed" this car to look like Bee. Keep up the good work!