DVD this week
---
We will buy a copy of the dvd this week. The best part is we are bringing hawk to the Texas state fair. The suburban has a factory dvd system. Its safe to say transformers will be playing on the way there.
---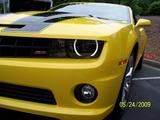 2010 Camaro RS SS LS3 (Bumble Bee) Vin#192 & 8 others made by GM and one Christine
Join Date: Jul 2007
Posts: 375
Three more days
I have mine on preorder. HD DVD and a regular DVD.
---
Still a wannabe.
Target for me. They were good to me on Friday, having all the toys. Might as well reward them!
---
2010 Stock IBM 2SS/RS
I found $80 in my jeans pocket. The kid in me said "buy nerf guns and candy!" But then the adult in me said "buy vodka, nerf guns and candy!"