F*** STEVE SALEEN!!!
---
This guy is a moron jerk looser P.O.S. !!!
I know they built it, but they need to get
their ass kicked anyways.
He'll get what's coming to him.
The V6 comment was strange. Since they cut up a V8 powered GTO.
yeah, funny about that V6 comment since GTOs did not come with V6's and there is no way they would spend the money to do an engine swap for a movie prop.

to hell with Steve Saleen. he's obviously pissed that the Camaro will beat his crappy mustang any day of the week. not good business sense to be talkin' smack like that, bro... especially after GM paid you to do that job. i don't think you'll be getting any other jobs like that.

and he said Michael Bay originally came to him for the Mustang to be the hero. funny, cuz i have heard the complete opposite... that Bay went to GM and as soon as he saw the concept Camaro in the design studio he had to have it in the movie. and i heard Bay is a Camaro fan.

i've said it before (in regards to the Saleen job on the Camaro for the movie)and i'll say it again:

i would NEVER buy any Camaro with a Ford name on it. i can't help it, i was raised with a big ford vs. chevy rivalry in my house. (hell, i wouldn't even buy a "Cobra" radar detector when i was a teenager just because it had the name Cobra on it).

when i think of companies like Roush and Saleen, i think: slow, over-priced, under-powered, gaudy, all-about-looks, and wannabe-racers. that is not the image i want on my new Camaro.
---
"All alone in my funeral home, playing in blood, there's just got to be something wrong with me" -Slayer-
---
Last edited by SunsetHawkSelena; 11-20-2007 at

09:02 PM

.
We're a year from release and they're already nervous enough to start talking trash?
I love it. Give me more.
Instead of trash, they should be working on their excuses.
---
Dirt!
to saleen
---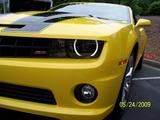 2010 Camaro RS SS LS3 (Bumble Bee) Vin#192 & 8 others made by GM and one Christine
On another board, we were discussing what we thought about a Saleen Camaro deviation.
I said NO. Didn't really have a backing statement, other than a funny feeling, but this is what I needed. Steve Saleen is a bloated POS who needs to drive one of his cars before he puts his name on it. Cause' I'd be embarrassed to own the rights to his cars...just sayin'
.
You know what this is? Remeber when Saleen "leaked" engine options to a mag? Maybe they were true, maybe they weren't. But I'll bet GM pulled the plug on Saleen. and he's pissed he couldn't get his hands on a real pony car to modify (ever so slightly, but still somehow worth thousands more than stock).
Now, leave it to a bunch of Mustang extremists to buy that garbage. V6? built a Camaro? HA! you ripped apart a GTO (V8!!!!) and put on a body that
GM
provided for you. Congratulations, you phony!
Okay. Now to breathe, and relax. I can't believe that anybody can string together that many 'jokes' and 'friendly jests' without it being intentionally malicious.<= hence why I got pissed.
NOT COOL, SALEEN! Go build another version on a Ruststang, you arse.
---
"Horsepower is how fast you hit the Wall, Torque is how far you take it with you."
ModernCamaro.com Founder / Former Camaro Disciple
Join Date: Jan 2006
Location: Chicagoland, IL
Posts: 11,842
I was not thrilled with his comments either.
Most of it is typical trash talk and friendly jabs, which is fine and expected.
But the V6 comment and the comment about Saleen had to build them was just false and stupid, and Steve knows it.
Oh well, I guess the Saleen modded Mustangs will just have to keep losing to bone stock Camaros.
A little man from a little company who adds body kits to under performing Mustangs and charges people outrageous amounts of money for another run of the mill "special" Mustang.
GM will produce the Camaro, which will out perform from the outset, without using/needing "bodykits", obnoxious and tacky graphics, and underachieving modifications, and which will blow Saleens overpriced 'Pep Boys' "specials" into the weeds.
If anyone is interested, here is their customer service address;
[email protected]
I'll be contacting them.
---
'99 Camaro SS #1392

Onyx Black/Neutral leather;MN6;T-Tops

SLP Options: Performance Exhaust; SS Keys Fobs/Plaque

Mods.: SLP L/T's; SLP Y-Pipe; SLP Loudmouth; Random-Tech High-Flow Cats; PRO 5.O w/ Lou's Short Stick; MTI Airlid w/ K&N; Hotchkiss STB; OPTIMA Red Top
---
Last edited by SSMOKEDU; 11-20-2007 at

10:13 PM

.
I like to see GM, Paramount, or Micheal Bay sue his ass for slander.
Its not a V6 and it pisses me off that he takes credit for design (or any part
of development of the 5th gen). He merely produced a prop from a GM car.

Im sure Hasbro (copyrights) and GM (funding) had the names in the hat when it was approved for production, Saleen's name was prolly thought up during production for prop production. He was a pawn, and he's acting like he's the big man. I say flood his email; then write to GM and Paramount for action.

The ignorant laughs from the mustang guys are too familar; one of the reasons I cant stand the mustang community anymore. Hell, I like the import guys better; at least they spend more time and effort to think **** up. *ends rant*
---
2005 Mustang GT-4.6L 3v /M5
2.3L Whipple Intercooled, 3.25'' pulley(11psi),FRPP 62mm TB, FRPP Stinger Axleback, UPR catted X-pipe, FRPP Handling Pack, 20'' Staggered Black Steeda Spyder Wheels, NT-05 Nittos, 3.73s, Hurst Shifter, and DF Centerforce Clutch

527rwhp, 479rwtq