Join Date: Sep 2008
Posts: 7
Bumblebee Replica... Spoiler help!!
---
Hi everyone, I've just signed up on this forum after reading through some of the posts!
I'm big fan of the Transformers Movie and am building a replica of the 76 Camaro!
I'm getting there with it, still got a lot to do though.. but I'm happy with how it's coming on! It's got that beat up look for sure, since it's kind of naturaly that way haha!
Anyway, I need your help to tell me what spoiler they used on the Camaro in the movie? I can't seem to locate it anywhere and I want to use the exact same type as in the movie!
Probably you guys know which one it'll be!! This is my first Camaro so I don't really know a huge amount about all the models!
Or if anyone has one let me know!
Anyhow still got to do the interior, change the tires for BF Goodrich and change the rims on the rear so it's exactly like the one in the movie!!
Attached a pic of the work in progress!
Hope you can help, thanks in advance!
Cheers, Marko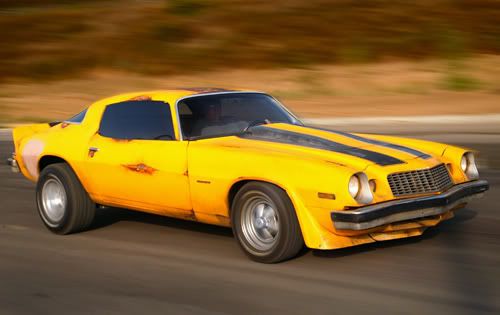 ---
Last edited by bumblebee350; 09-22-2008 at

10:32 PM

. Reason: Screwed up my pics!! And again!!
first off hello and welcome
2nd good luck with the project
3rd your pics don't work


4th no idea on the wing
---
Quote:
Facebook has sucked me into Farmtown.

What can I say I love virtual plowing.
Join Date: Sep 2008
Posts: 7
hahaha Thanks!

Yeah, what's up with my pics! Still not working!! Let me see...
Welcome to the site, Marko. I can't help with the spoiler, but I'm sure some of the 2nd gen Camaro peeps will chime in soon enough. Sounds like a cool project......looking forward to seeing the pics of the build.
---
Join Date: Sep 2008
Posts: 7
Hi, thanks! Yeah hopefully they will see my post.. wasn't sure where to post it... the transformers section or the 2nd Gen section!

I'll post some more pics of my car soon as work continues!
---
---
Last edited by FranknBeans; 09-23-2008 at

10:25 AM

.
Banned
Join Date: Jun 2007
Posts: 4,153
---
Last edited by Devryn; 09-23-2008 at

10:11 AM

.
Join Date: Sep 2008
Posts: 7
Im imagine it is a standard spoiler from the 2nd gen camaros but not sure which one is the same one and which ones will fit?
I checked that link with the pic of your fathers 81 camaro but didn't work
Join Date: Sep 2008
Posts: 7
Hey thanks for the ebay link... I just found this

http://cgi.ebay.com/ebaymotors/78-81-CAMARO-Z28-5-PIECE-WHEEL-SPOILER-SET-Z-28_W0QQitemZ370089074479QQcmdZViewItem?hash=item37 0089074479&_trkparms=72:727|39:1|65:12|240:1318&_t rksid=p4506.c0.m245

Does anyone know if that is the exact same one as in the film?

Will this one fit my 76 Camaro ?

Cheers
Banned
Join Date: Jun 2007
Posts: 4,153
It should be the same one, but as far as I know, the chin spoilers didn't actually come on the 74-77s.