Its here.....Bumblebee
---
---
1994 Z28
Autobot
I would like to thank the person that came up with these fine avatar and signature's.

**** - that movie looks better than I thought it would
Maybe a trip to the theater is in order
first club meet??? also, why they have that disney kid in there and not Will Smith. did anyone else get a lil "choked up" due to being anxious?
---

*A Cars Only Purpose Is To Get From Point A to B. I Just Rather Get There In 13.2 @ 106
* Going Mustang Hunting... Be Back In 12 Seconds
www.fquick.com/Naute
<---- That's Me
http://fn-fasttown.myminicity.com
---
Last edited by Naute; 12-20-2006 at

06:54 AM

.
Join Date: Sep 2006
Posts: 134
This flm gets moved to my 'must see at a theatre' list.
ModernCamaro.com Founder / Former Camaro Disciple
Join Date: Jan 2006
Location: Chicagoland, IL
Posts: 11,842
Nice! Can't wait to see the movie.
Join Date: Mar 2006
Posts: 572
I can't wait to see this movie
---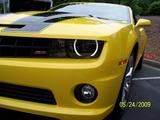 2010 Camaro RS SS LS3 (Bumble Bee) Vin#192 & 8 others made by GM and one Christine
definately a must see in theatre already told the wife it was so
---
2000 Red 1SC Z28 A4 - dead for now
2005 Black GTO M6 6.0 - Split daily driver
1987 Silver Fiero GT - Split daily driver
That was Rad!

Did I see Randy Couture acting in that?