The Extendolator intake spacer for 12+ LFX v6 engines
---
•Q: How does it work?
•A: The power band of an engine can be directly effected by changing the length of the runners in the intake manifold. By lengthening the runners, more bottom end, and mid range torque and power can be realized. In this case, adding the 3/4" thick Extendolator Spacer shows a NICE gain of up to 7-10% in torque upto 5,000 RPMS, and a 4-6% gain in low end power
•Q: Is it available in different thicknesses? Why 3/4"?
•A: Currently, there are no plans to make the spacer in any other thicknesses, although upon special request we can probably make one for you in the thickness of your choice. Some pretty extensive testing has taken place over the last year playing with different thicknesses and the 3/4" was determined to show the greatest low to mid range power gains with little to no sacrifice in top end power.
•Q: Did you say loss of top end power? How much peak power can I expect to gain?
•A: Yes, unfortunately, you
may
experience a slight loss in top end power. By lengthening the runners in the intake manifold, you're basically shifting the entire power band down to get the low to mid range gains. If you look at the graphs on a "cold" engine, you may see a 2-3 hp drop from 5500-6000 up to redline. However as tested on a "hot" engine you may see a 0 to +2-3 hp gain, so it's really a wash. Expext no PEAK gains from this mod.
Realize that with the spacer you are getting a NICE gain from idle up to 5000-5500 rpms, which is where 90% of most driving is done. This is 100% USABLE instant power. With that said, you may increase a boost in MPG in your every day drive if you can keep your foot out of it, because of the increased low to mid power/torque the engine will not have to move as hard to get the car moving down the road.
Stock vs Spacer BEST 2 runs each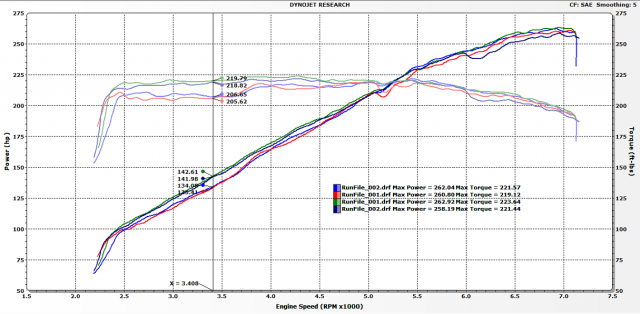 You can see it looks like both the stock, and with the spacer hit some knock retard in a couple places.. Gas was 92 OCT E10 from a Shell station in the middle of nowhere.
Stock vs Spacer WORST 2 runs each
This makes me wonder if the manifold cooling effect comes into play with the LFX spacer as does the LLT ICEolator. All of the spacer runs are **** near identical where as the stock ones take a dive after the 2nd run.
None the less, the results from the days testing were nice to see.
As far as the spacer, as we've seen before, you (probably) will not gain any
PEAK
HP, but for most normal people that don't take their car over 5,000 rpms every shift, there is a NICE bottom end gain in both HP and TQ. As previously seen, you do lose a tiny bit of HP from 5-5.5k to 7k rpms, but I know I won't loose any sleep about losing a few hp up there.
I imagine a good tuner can EASILY get it back (if you're already tuned, no need to worry about voiding the warranty, if you aren't and don't want to be, then don't worry about the little loss)...
All runs were conducted between about 1:30pm and 3:30pm, weather conditions according to the dyno, 95.42-97.8 deg F, 29.61-29.63 in Hg, 17-18% humidity.
Installation instructions can be read here:
http://jacfab.com/wp-content/uploads...tions-rev2.pdf
It's a pretty easy install being a direct injected engine so you don't have to mess with the injectors, fuel rails, etc... It can be done by a first timer in under an hour with basic hand tools. No messy sealant required, the Exnendolator is milled to accept factory GM oring intake gaskets to seal between the upper and lower intake manifold pieces.
PM for pricing. I am currently trying to put together a group buy over on Camaro5. I can offer 10% off for 8 people or more, and if i can get 16 or more people interested I can do 15% off.
---
Specializing in attractive "no drill" front license plate brackets for the 2010+ Camaro
Check out our new website! www.jacfab.com
2010 Camaro 1SS RJT w/ SIM Stripes; M6.
12.535 @ 112.33mph
JacFab No-Drill front license plate bracket
, Dynomax Axleback,
JacFab CAI System
, JacFab HFC's, Bo White ported TB.