SLP axle back exhausts
---
Quote:
Originally Posted by David Hamburger
We've been pretty busy tearing into our new Camaro's and the result is the first batch of Exhausts. There are three videos, for the SLP PowerFlo Axle-Back, SLP LoudMouth 2 Axle-Back and SLP LoudMouth Axle-Back. We should have our full cat-back exhaust videos done next week.
http://www.slpcamaro.com/
-Dave
---
His - 2000 M6 Firehawk #295
Hers - 2004 M6 GTO
Boys - 2008 Yukon XL Denali
Cool vids, Chris! Thanks for posting!
---
When will pricing be announced??
I don't want the price anymore, when will it ship out
---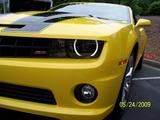 2010 Camaro RS SS LS3 (Bumble Bee) Vin#192 & 8 others made by GM and one Christine
Sounds great.....
---
2005 CTSV BLACK LS7 Clutch/Flywheel/Slave, Tick Speed Bleeder, Tilton Clutch MC, RevShift Bushings, Domestic V8 Solutions (shifter, 8.8 Diff conversion, srut tower braces, sub-frame connectors), SLP cats, no cags, xpipe, bullet mufflers, Volante, iPod dock, G-force tune; 379hp 381tq.

Killing 5th gens like it is my job.
I like the loudmouth the best..
---
1994 Z28
Autobot
I would like to thank the person that came up with these fine avatar and signature's.

i see they are selling the skip shift eliminator now!
Join Date: May 2009
Posts: 10
We're offering free shipping for any Camaro exhaust orders placed this weekend. This includes either Corsa cat-back system, or any of the three different SLP axle-back systems.
More information can be found in the following thread:
http://www.5thgen.org/forum/showthread.php?t=14187