SLP Loudmouth
---
SLP Loudmouth showed up on monday. I might install it later today or tomorrow.
PICS to follow.
---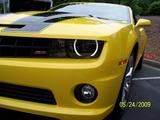 2010 Camaro RS SS LS3 (Bumble Bee) Vin#192 & 8 others made by GM and one Christine
Veteran Member
Join Date: Oct 2008
Location: Wetumpka, Alabama
Posts: 8,645
Sound clip also please.................
---
2014 2LT/RS with spring edition package. Proud Litho Owner #28.
Junior Member
Join Date: Sep 2008
Posts: 60
Lorcin you will not be disappointed by the loudmouth. Installed mine about a week ago and I am super impressed with it. You should hear the difference at start up. Sounds so much deeper. When downshifting the backpressure sounds so much crisper and it gives it that muscle car exhaust note.
---
2010 Camaro 2SS/RS CGM
Produced: 6/4/09
Delivered: 6/19/09
Join Date: Feb 2009
Posts: 332
i had a chance to hear the loudmouth at carlisle, and while it did sound good, it didnt sound as good as the borla/corsa systems i have been around in the past
Yes I have heard the corsa system and it sounds like the old muscle cars and takes me back to cruise nights. That's what I'll be getting.
---
Proud owner of a 2005 srt-4 on less boost and heat soaked put down 372whp and 395wtq. Building my 1973 celica hopefully running before police academy starts. Can't wait to own a new car off the lot. Looking into the 1lz
Junior Member
Join Date: Apr 2009
Posts: 39
I would like to know how they sound and feel like after a week or two
Loudmouth, Loudmouth II, Borla, or Corsa
I was going to remove my mufflers and go strainght pipe, I held off
Join Date: Jul 2009
Posts: 63