flowmaster fans
---
I just got off the phone with flowmaster and They said that they have just gotten all the fixtures they needed to start producing thier system for the camaro. I believe he said its going to be a catback 3" t4** stainless with thier super 40's on it. This is what I have been waiting for befor I made a final decision on what to do with my exhaust as I have used flowmaster on all of my rides(classics) but not sure how they sound/perform with a new auto. He said they should be in full production in about a month.
---
7663
2SS/rs A6 Cyber Grey W/ black Rally Stripes... No longer Waiting
---
Last edited by trenchdog73; 07-13-2009 at

10:46 AM

.
Flowmaster and Magnaflow produce my favorite sounds
Join Date: Jul 2007
Posts: 149
I hope Flowmaster makes an aluminized system like they did for the GTO. Stainless is just overkill in the south and a waste of money.
Now I'm dying to hear this system on the Ls3
---
Proud owner of a 2005 srt-4 on less boost and heat soaked put down 372whp and 395wtq. Building my 1973 celica hopefully running before police academy starts. Can't wait to own a new car off the lot. Looking into the 1lz
I too have been waiting for this exhaust system, any updates?
---
Rally Yellow, Black Rally Stripe, 2SS, RS
Born 5/15/09 VIN# last four 8785
Flowmaster
---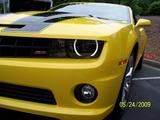 2010 Camaro RS SS LS3 (Bumble Bee) Vin#192 & 8 others made by GM and one Christine
Flowmaster 40 series sound good but like the American thunder Kits are to quiet
---
'Winning'
I am a Flow40 guy myself.

92 B4C 1LE Camaro with single 2 chamber sounded amazing.

85 454 Subrban with LT Headers and 2 2 chamber flows sounded great as well, but the camaro had more power!
---
2005 CTSV BLACK LS7 Clutch/Flywheel/Slave, Tick Speed Bleeder, Tilton Clutch MC, RevShift Bushings, Domestic V8 Solutions (shifter, 8.8 Diff conversion, srut tower braces, sub-frame connectors), SLP cats, no cags, xpipe, bullet mufflers, Volante, iPod dock, G-force tune; 379hp 381tq.

Killing 5th gens like it is my job.
Flowmaster makes the best sounding exhaust IMO. Have them on my truck, dad has them on his GTO, I even got my friend to put flowmasters on his integra.....and you know what they sound way better than other ricer exhaust. Definitely will be putting flowmasters on a Camaro as well.
---
2011 Synergy Green Metallic 1SS Camaro:
RS Package, White Ralley Stripes, Premium Sound.
Mods; Flowmaster Exhaust, Vararam CAI, Pfadt Sport Suspension, Budnik "Ice" Wheels, Nitto Invo tires
Upcoming Mods; Custom grill and badging.