SLP Loudmouth
---
Has anyone installed the SLP Loudmouth yet? I read about the Loudmouth II, but am curious to see if the Loudmouth is too loud on the inside of the car. By too loud I mean like a 71 Camaro with the loudest flowmasters you can get w/headers and a 450 hp 383 small block loud?? Thanks for any and all responses.
I just put mine on last week. It is def. not too loud. It sounds great. Perfect in my book. You can hear it when you get on it, but at cruising speed, you can hardly hear it inside. I was nervous about it being too loud for my tastes, but it's not. I am glad I went with it. Installation is pretty easy. The hardest part is all the adjustments to get everything straight before tightening the clamps.
Veteran Member
Join Date: Oct 2008
Location: Wetumpka, Alabama
Posts: 8,645
SPL Axle-Back Exhaust, 2010 V6 Camaro "PowerFlo" w/4" Tips

anyone put this exhaust on yet was wondering about the drone inside...
---
2014 2LT/RS with spring edition package. Proud Litho Owner #28.
What is drone??
---
I've heard alot of people use the term drone. Can you tell me what that exactly means when you say there is some drone?
---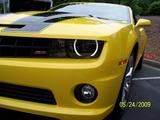 2010 Camaro RS SS LS3 (Bumble Bee) Vin#192 & 8 others made by GM and one Christine