I have a MagnaFlow Exhaust...
---
I bought the car used and the exhaust was on it when I bought it.
How can I determine which model exhaust I have.
I have looked under the car and cant see a part# or model#.
Where should I look?

Thanks.
---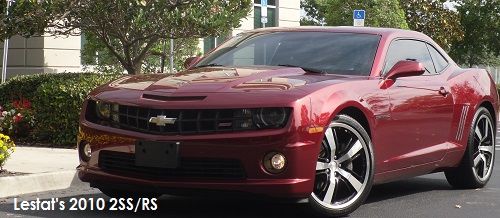 Member
Join Date: Jul 2013
Posts: 106
all of the 5th gens I seen with after market has the name of the exhaust system written on the tail pipes.
I bought my car used and it says Flowmaster on the tail pipes. The mufflers are painted black and they do not have any markings.
I believe stock exhaust is 2.5" and most after markets are 3".
By the way, congrats on your new purchase. That is a nice looking car.
---
Veteran Member
Join Date: Aug 2009
Location: Cali. North Bay
Posts: 1,925
As a rule of thumb, the street versions have the inlets and outlets on the mufflers staggered (inlet is at one side and outlet is in the center) while the competition version has them inline down the center of the muffler for a more straight-through flow....
Love the sound of my Comp Series 3" catback system...
They have decent picks on their website that you could compare yours to:
MagnaFlow Exhaust Products - For Trucks, Suv's, American Muscle, Diesel, & Sport Compact Vehicles
---
Chuck
2010 SIM 2SS/RS A6 SC - Born on 10/05/09

MyCamaroBuildInfo
"You Were Really Flyin' When I Passed You Back There!"
February-2013-MOTM-Winner