Discussion Starter
•
#1
•
You have been nominated as the Member of the Month for August 2011!!!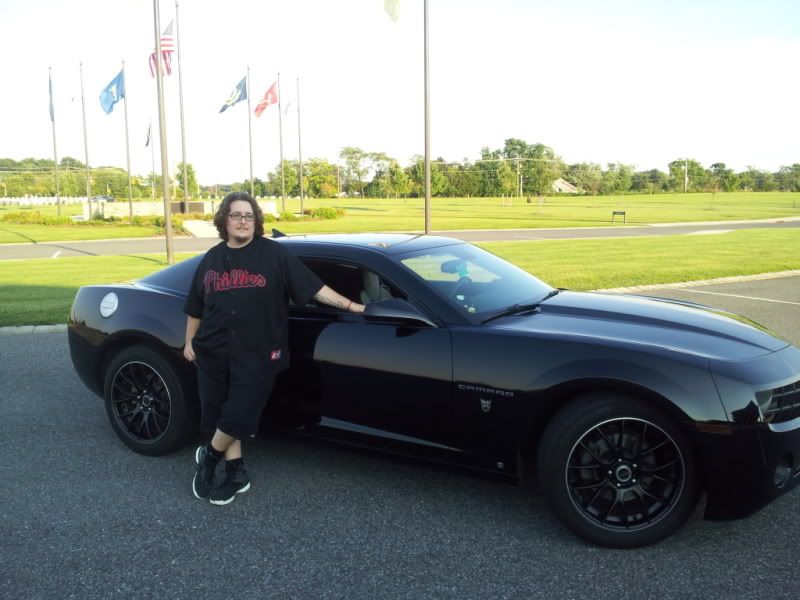 What got you started with your love for Chevy and the Camaro?
The Camaro heritage is deeply routed within me. At birth, I was taken home in an '86 Iroc Camaro that belonged to my mother. Over the years my father had quite a few sweet cars including a '75 Sting Ray Corvette, a '92 5.0 Mustang and a 2001 Camaro. All of these cars had a pivotal role in my childhood especially the Camaros. My family always went to car show weekend at the boardwalk in Wildwood, NJ as well as local car shows.

Whats the Story Behind your 5thgen Camaro?
Well, it all started with my first car, a Bright Rally Red 2002 Camaro v6 auto. I always took immaculate care of the car. It was worked, including a magnaflow cat-back, intake, tune, and a custom "3800" hockey stripe. On June 20th, 2009, I was heading to a friend's house on a Saturday evening; it had been raining on and off that day. I was driving down the road doing the speed limit (which was 50 mph). I ended up hitting a pothole and lost traction on the back wheels of the car, violently hitting a utility pole. I was not wearing my seat belt which was very stupid on my part and my face hit the passenger pillar causing my head to go through the windshield. I crawled out of the car and flagged down the next car that drove by. Not to mention I was in a very rural area, so who knows when the next car would have appeared. Shortly after a police officer showed up and immediately checked me and the scene, he began interrogating me and asking where the passenger was. I proceeded to tell him that I was the only person in the car and he began threatening me saying he would get me for lying to an officer...I told him, "That is my hair in the windshield!" which it was dangling from the hole in the windshield. 50 stitches to the head and a massive headache later, I found myself lucky to be alive and thankful for a "thick head." The next day I received 2 tickets in the mail, one for "failure to maintain a vehicle"--if that wasn't a slap in the face enough, i received a "failure to wear a seat-belt"...go figure. I then found myself without a car and had always dreamed of getting a brand new 5th gen having seen one at the 2006 Philly International Auto show and of course the infamous Transformers movie. I did a ton of research while I was supposed to be resting those next few days, searching as far away as Ohio for a good deal on one. Ironically the best deal I found was on a 1LT at Pellegrino Chevrolet. A few days passed and I started shopping I quickly found out being a younger guy only makes it more difficult when buying a car like this. No salesmen would take me seriously. Then when I went to Pellegrino, I met a fellow by the name of Scott Petersen who actually listened to me and helped me purchase the car. As I pulled off the lot, he told me his managers told him to stop wasting his time on this kid, and that they were kicking themselves because they didn't get that sale:lol:. After getting approved I wanted to cry from the overwhelming happiness. It was like a dream, driving a car that at the time was a rarity to say the least. I had only seen one on the road prior to getting mine; driving it down the road had given me the attention as if I was riding in a spaceship:lol:

How did you come across ModernCamaro.com and what made you become a sponsor and stick around?
Believe it or not, I came across it as I was googling for a Camaro forum to join. The thing that honestly sold me was the name...ModernCamaro.com sounded so much more appealing than C5. I soon found out that this was a much better choice. I enjoy talking to the people on here...it's not all v6 bashers with egos that can't fit on a page. I am very loyal to ModernCamaro and check it at least 4 times a day:5go:

How did the Camaro or Chevy in general change your life?
Well if anything the Camaro taught me about second chances. I feel all too fortunate to have made many friends on Modern Camaro and at the many cars shows that I attend. The Camaro family to me is just full of genuine people who I can relate to. I have realized it is more than just a car, it's a way of life

Finally do you have anything you'd like to say to ModernCamaro.com members or anyone else reading this interview?
I would just like to thank everyone on the forum for helping me out with various questions and inquiries. Also, I would like to thank all of our military members for their service to the greatest country in the world. Finally, I would like to thank GM and it's employees for bringing back the Camaro. A rebirth of the Camaro and a rebirth of how I live my life; Living life with honor, respect, happiness, and hard work