In your opinion, what is the best 80's car ever made? how about a couple runners up? and list why they didnt make the number one spot.
Here are the requirements to make the list
Must be from 1980-1989
Must be american
Must be a mass production car, No super limited editions that they only made a hadfull of.
Try to keep out cars like the 1980 camaro or trans am because they are second gen car and dont really belong on the list, same with the c3 corvettes etc.
Here are some cars to pick from....Ill add more to the list as you guys list them.
Ford Mustang GT
Chevrolet Monte Carlo SS
Chevrolet Iroc Camaro
Pontiac Formula Firebird
Pontiac Trans am GTA
Buick GNX
Chevrolet El Camino SS
Ford Mustang Notchback
Oldsmobile 442
Ford Thunderbird SC
Pontiac Grand Prix Turbo
Merkur xr4ti
DMC Delorian
mercury capri
Chevrolet Corvette
Pontiac Fiero GT
Buick Regal T type
Dodge Daytona Turbo II
Dodge Shelby GLHS 6.5 14.8
Soooo my top 3 are.....
#3 1988 Pontiac Fiero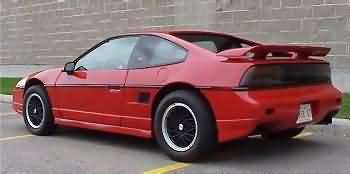 I really struggled to pick a #3, but Ive owned a fiero and have to say, they are very fun cars. I believe this car to be one of the best looking cars on the list. Sure its performance numbers were down, stock I think it ran mid 15's. This car is a completely different car from the original fiero that had fire problems and was recalled. the suspension of the 88 was designed by lotus ( to give you a better idea).
#2 1989 Trans am GTA
Ok, I did not pick this car because I have one, I have one because its one
of my favorite cars of all time. The only reason it didnt make #1 is the transmission. Autos are ok, but would it really of been that hard for them to make a 5 speed to handle the massive 245hp of the tpi 350? But back to the positive things, they stand out from the standard t/a's, the gold wheels are a big plus, and the small differences like no fender vents, and gold bird are great!
#1 1987 Buick GNX
Despite only coming in automatic, these cars showed that we could still have high performance and meet emissions, also the look of them..I just cant get enough! I almost died when the new fast and furious used one in their movie.
Honerable mentions are...
1989 Turbo trans am
I didnt pick this because I believe a v8 belongs in a trans am...even if its the gnx motor.
Mustang GT
Great performing cars, light, v8, RWD, 5 speed....not the best looking though.
Merkur xr4ti
Known as being the best handeling cars of the 80's it used a turbo 4 cylinder, ran mid 15's and was rwd...kinda ugly, but fun cars.
1988 Monte carlo SS
Why oh why did they have to come with a 305?? I owned an 88, even after headers, intake, and exhaust it was still slower than crap.
Iroc Z
Ive just always been a firebird guy, nothing against the camaro, Its pretty much a different looking firebird anyway.