Man the Impala and the Malibu should blow this car away.
Weak engine with low MPG. It reminds me of the old Taurus. Like this one: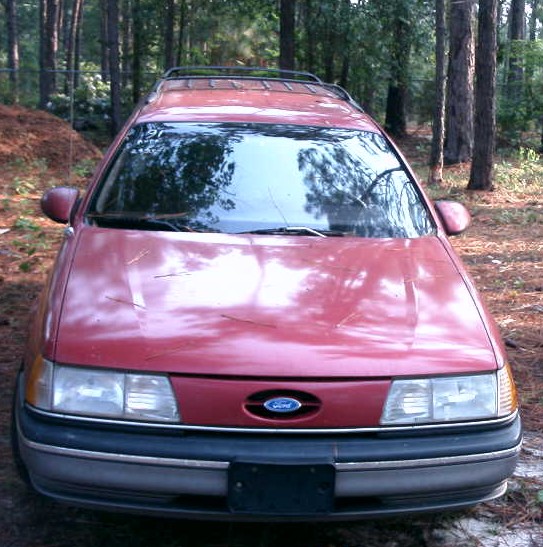 BY ANN M. JOB
For The Associated Press
Once America's top-selling car, the Ford Taurus is back in a big way.
The five-passenger 2008 Taurus is the largest Taurus ever -- so sizable it's classified by the government as a large sedan, rather than the typical "mid-size" family car.
It has more safety features than any previous Taurus and includes standard side-mounted air bags for front-seat passengers and head curtain air bags for front and rear seats that provide protection during both side and rollover crashes.
But electronic stability control that can help avert a skid and loss of car control is a $495 option.
The 2008 Taurus story is unusual. Ford officials created the new Taurus by rebadging the Ford Five Hundred sedan and adding updates, including a larger, more powerful engine, better sound insulation and retuned rear suspension.
The reason for the change: The Five Hundred had launched in calendar 2004 as a Taurus replacement but it never really caught on with consumers, and name recognition for the Taurus remained high.
Taurus debuted as a 1986 model and zoomed to more than 406,000 annual sales by calendar 1992. More than 6.7 million Tauruses were sold over more than 20 years.
But Taurus buyers from the past who may recall a family sedan that started below $20,000 are in for a surprise.
The 2008 Taurus has a starting manufacturer's suggested retail price, including destination charge, of $23,995, which is just above the starting price for a 2007 Five Hundred.
Indeed, the test Taurus -- a top-of-the-line Limited model with all-wheel drive and several options -- topped out at nearly $34,000.
Ford officials want shoppers to compare the Taurus with other large, V-6-powered sedans, such as the Toyota Avalon, which starts at $27,495 for a 2007 model and the 2008 Chevrolet Impala, which starts at $21,940.
But this assumes American families are looking for bigger, more powerful sedans rather than top-selling, mid-size cars like the Toyota Camry, with a 2007 starting price of $20,140 for a four-cylinder model with automatic transmission.
It also assumes that fuel efficiency isn't a high priority for buyers, because the best fuel mileage rating for the 2008 Taurus is 18 miles per gallon in city driving and 28 mpg on the highway for a front-wheel drive model. The only Taurus powerplant is a 263-horsepower V-6.
This compares with the 21/30-mpg rating for a 158-horspeower, four-cylinder Camry with automatic.
There's no doubt the new Taurus rides smoothly and comfortably and is roomy. I marveled at the distance between me and my front-seat passenger as I traveled. And with more than 41 inches of legroom and nearly an inch more headroom in the front and back seats than a 2007 Camry, this Taurus is welcoming for even tall passengers.
Trunk space is mammoth at 21.2 cubic feet and makes the Camry's 15-cubic-foot trunk seem almost stingy.
It's worth noting that despite the fuel mileage rating, the Taurus can travel more than 520 highway miles on a single tank of regular gasoline. This is close to the four-cylinder Camry's range and stems from the fact the Taurus comes with a large, 20-gallon tank, while the Camry has an 18.5-gallon gas tank.
The newfound power in the Taurus is very satisfying, and the 3.5-liter, double overhead cam, Duratec V-6 worked capably to speed me past slower cars on country roads and help me merge easily onto highways.
Torque peaks at 249 foot-pounds at 4,500 rpm and propels the Taurus forward in a pleasing, not unsettling, fashion. This engine also is used in Ford's Edge crossover, which weighs more than the Taurus, so there's plentiful power here.
The only Taurus transmission is a six-speed automatic that smoothly works through the gears with nary a shift point for drivers to notice. Note that this transmission -- a joint venture product with General Motors Corp. -- has two overdrive gears to get the maximum out of every gallon of fuel.
In fact, Ford engineers said this new transmission, which also is in the Edge and GM's Saturn Aura mid-size car, is more fuel-efficient than the Five Hundred's previous continuously variable transmission.
Drivers will notice how much quieter this Taurus is compared with earlier models. It's even quieter than the 2007 Five Hundred, thanks to new sound insulating material and revised outside mirrors that produce less wind noise.
Another improvement: Engine vibration is isolated now because of new engine mounts and doesn't transmit readily to the passenger compartment.
There can be a bit of noise from the Limited's 18-inch tires, however, on rough pavement.
The Taurus looks dressed up on the outside, with eye-catching taillamps and headlamps and a grille reminiscent of the one on Ford's popular and smaller sedan, the Fusion.
The top, Taurus Limited is my favorite for appearance because it includes lots of nice chrome-colored touches, such as on the door handles.
Even with stability control optional, the new Taurus earned the top, five-out-of-five-stars rating from the federal government in frontal and side crash tests. And the 2007 Ford Five Hundred on which the Taurus is based was a recommended buy of Consumer Reports magazine this year.
2008 Ford Taurus Limited AWD
BASE PRICE: $23,245 for base SEL; $25,095 for SEL with AWD; $26,845 for Limited; $28,695 for Limited AWD.
AS TESTED: $33,795.
TYPE: Front-engine, all-wheel drive, five-passenger, large sedan.
ENGINE: 3.5-liter, double overhead cam, Duratec V-6.
MILEAGE: 17 mpg (city), 24 mpg (highway).
TOP SPEED: NA.
LENGTH: 201.8 inches.
WHEELBASE: 112.9 inches.
CURB WEIGHT: 3,930 pounds.
BUILT AT: Chicago.
OPTIONS: Navigation system $1,995; entertainment system $995; AdvanceTrac stability control $495; convenience package (includes cargo net, garage door opener, rear parking sensors) $475; wood package (includes woodgrain inserts on shift knob and steering wheel) $195; Sirius satellite radio $195.
DESTINATION CHARGE: $750