Discussion Starter
·
#1
·
On Sunday April 27th in Fort Worth Tx at the Hulen Hooters (Same location as the BIG show that was in 2005 that the Fbodfather attended) We will be having a huge benefit show. Also Saturday April 26th we will be having a large cruise with several of the local clubs and any show person who wants to attend and a dinner/drinks GTG-$5.00 a plate dinner,
with all proceeds going to the charity.
This is Going to Be BIGGGGGG
AS seen down below there will be a Class for everyone !!!!
Last time this show was only for Fbodies and brought in a few hundread Vehicles but now the people putting this on who I know personally decided to make it a Charity Benefit.
Why not Bring in some Mustangs and others and let them have there own class while sitting along side about 300+ Camaro's and Firebirds not to mention Hot Rods and Bike.....This is going to be fun. Fbods will have there own area.
In 2005 that show brought Fbods all over the state of Texas to LA to Neb and Kansas came to to the same location... its been a while but now its time to get the FEEL of summer back in the air and the adrenaline of Camaro Fever back in the State of Texas. What not a better way to do it with Cars Cars Cars !!!!!!!!!!! if anyone is interested just let me know. And just like last time Hotels are all around the hooters and are filling up as once before.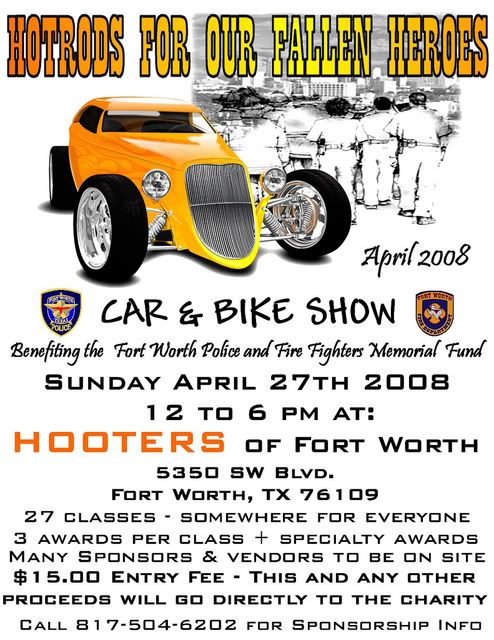 Ok, a little more information. We are now at 31 classes as follows: Still a few more to come !!!!!!! like Best of show in each class !!!!!!
1st Gen Camaro
1st Gen Firebird
2nd Gen Camaro
2nd Gen Firebird
3rd Gen Camaro
3rd Gen Firebird
4th Gen Camaro
4th Gen Firebird
Corvette
Corvette Convertible
Mustang
Mustang Convertible
Dodge/Plymouth
Custom Truck
Show Truck
pre 50's
50's
60's
70's
80's
90's
00's
Street rod
Muscle Car
Hot Rod
Motor Cycle
Police/Fire Related
(example-Dare Cars)
Open Class (anything)
Modified Corvette
New GTO ('04 to '06
Old GTO '64 to '74
Sponsors list (still not complete)
Xtreme Horsepower
Niles City Saloon
Afterthoughts Auto
Simple Quick Racing/Billy Ray Motorsports
Ace Racing Transmissions
Mooreshine
Texas Dyno
Elite Silver Jewelry
Hooters
Metal Mike
A.T.'s Electric
Billy Ray Motorsports
Coors
Budweiser
Redi-Lube
Apache Chopper
O'Rileys
Smoky Hill Restorations