Discussion Starter
•
#1
•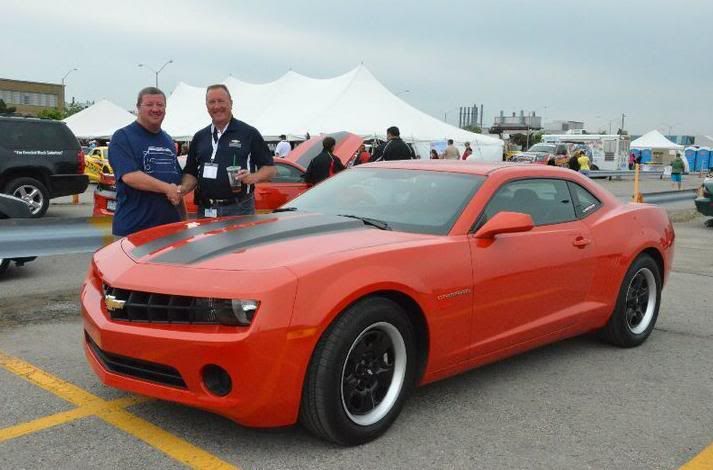 You have been nominated as the Member of the Month for July 2011!!! How do you feel about that?
Very proud that people nominated and voted for me - I have so many great Camaro friends, and I love every one! It took longer than I wanted, but I have one for myself!
What got you started with your love for Chevy and the Camaro?
It started back in 1985 when I got out of High School. A local dealership had a low mileage 1981 Camaro Z-28 Stick. Black with stripes, air induction...An AWESOME car. The salesman threw this 18 year old at the time the keys and said be back in an hour. WHAT??? I was in shock and in heaven at the same time.... Needless to say I went to my friends house...laid down such a long burntout that lasted almost a year... Went back to the dealership, the papers ready to sign...My dad's face popped in my head, and I thought of the misery that would be inflicted if I pulled into the driveway with that car. I put down the pen, said I can't, and walked out. Two days later, I got a little ballsy, and decided to GO FOR IT. Well, it was sold. Three years later I was married, and the first time and MANY times after that, when I looked at Camaro's, I was told "it's impractical".... Almost 21 years later, I got the "OK"....and I wasted NO TIME getting one in the driveway!
Whats the Story Behind your 5thgen Camaro?
I wanted an SS (who doesn't) but my car is a year round, in the snow car...and the new 2LS model rated at 30MPG ! It is my canvas, and it will be painted into something I can call my own.
How did you come across ModernCamaro.com and what made you become a sponsor and stick around?
I think I actually found a link on a Corvette forum...and I got to chat with people with the same interest... Tim was one of the first, and I remember going to the autoshow in Chicago....meeting many more people. I also started on other forums, but this was the one with the least amount of drama. I have great respect for moderncamaro.com, Tim, and many of my friends here.
How did the Camaro or Chevy in general change your life?
Who would have thought I'd deliver over 80 cars to people in 32 different states, including Alaska and Hawaii?? Meeting firefighters, and working with customers in a sandbox in the Middle East, fighting for our Country for months, with one big thing on their minds.... GETTING A CAMARO. It became more than a job, it became a mission - a mission to provide one of the best delivery experiences, totally unlike any they've had before. Were they all perfect? No, a few had hiccups, but we MADE them work - whatever it took.
Finally do you have anything you'd like to say to ModernCamaro.com members or anyone else reading this interview?
I've talked to and got emails from SO MANY PEOPLE since I've joined - Thank you! I have had calls from "people" on the inside, some without names - Thank you! I've had many people stop and visit the dealership - many who didn't buy from me, but many that I helped during their buying experience - Thank you! I've met people at shows, events, and Oshawa - I love you guys, I have never had so much fun (too much at times....) and met a greater group of people - it's a life changer! Finally, two people I have the greatest respect for, who are like a brother and sister to me, Anna Bearinger, and Eric Hall - two other forum sponsors who are at competing dealers....but who I have a GREAT working experience with - we are a team....a team sharing information, working with customers to find a specific car, and a team with Camaro love. Not all people have this love for competing dealerships....because other dealers usually are worried about themselves, not the customers..... Anna and Eric are the greatest, without them, I am only a fraction of "Camaro Scotty". Thank You!