Discussion Starter
•
#1
•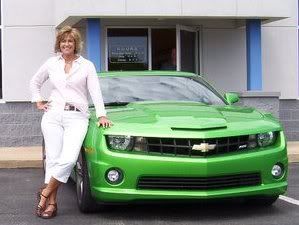 You have been nominated as the Member of the Month for June 2011!!! How do you feel about that? Excited!
What got you started with your love for Chevy and the Camaro? My love for Chevy goes way back, but really got BIG when I started selling them at a Chevy Dealership. Now any other brand I drive feels STRANGE!
Whats the Story Behind your 5thgen Camaro?
Well, like most everybody else that saw the concept, I fell in LOVE! I had to have one!
So around 2 1/2 years ago while trying to figure out what color to order, my husband lost his job. VERY thankful he lost it before we ordered rather than after, but my dream had to be put on hold. He was out of work for a LONG time and there was just no way we could afford it on my income alone.
Well, when they announced that Synergy Green would be offered on the SS I decided it was time to order my dream car! I figured that the hubby would be back to work by the time it came in and I would be driving by the end of Summer 2010. I ordered a Synergy Green 1SS Manual with Boston Acoustics. Well, the car came in and hubby still hadn't found a permanent job.
Fast forward to April 2012 and the Husband had been at a GREAT job for 5 months. One night we're out for dinner and he tells me...'I have been trying to figure out a way to go buy that car for you behind your back. Go buy it!' Well, that was all I needed to hear! Brought it home that Tuesday.
ERMAGRIN:
How did you come across ModernCamaro.com and what made you become a sponsor and stick around? Actually, the owner of the dealership turned me on to this site. He had joined to give a dealer's perspective on everything that was happening with dealer's lying and not giving the customer the info they deserved. Knowing how much I had fallen in love with the Camaro he told me about this site. I then joined and shortly after he and I decided we should support and sponsor this site. What a GREAT place with GREAT people!
How has the Camaro or Chevy in general change your life? Well, the Camaro has not 'changed my life' per se, but it sure has ENHANCED AND ENRICHED it. I have met SO many wonderful people since I bacame involved in the Camaro Community. Eric Hall and Camaro Scotty welcomed me with opened arms when I joined this site. Camaro Scotty helped me learn A LOT about the Camaro and about using GM's systems to find information for my clients. Thank you both, you are great buddies!
Finally do you have anything you'd like to say to ModernCamaro.com members or anyone else reading this interview?
I would just like to say THANK YOU all for being you. I love being here and am thrilled to call so many of you 'FRIEND'. That is not a term I use loosely either! I am already looking forward to BBOMG4! Can't wait!