Discussion Starter
•
#1
•
Latest Aftermarket Performance Parts & Accessories for the 2010 Camaro
March 13th, 2010 - Dallas, Texas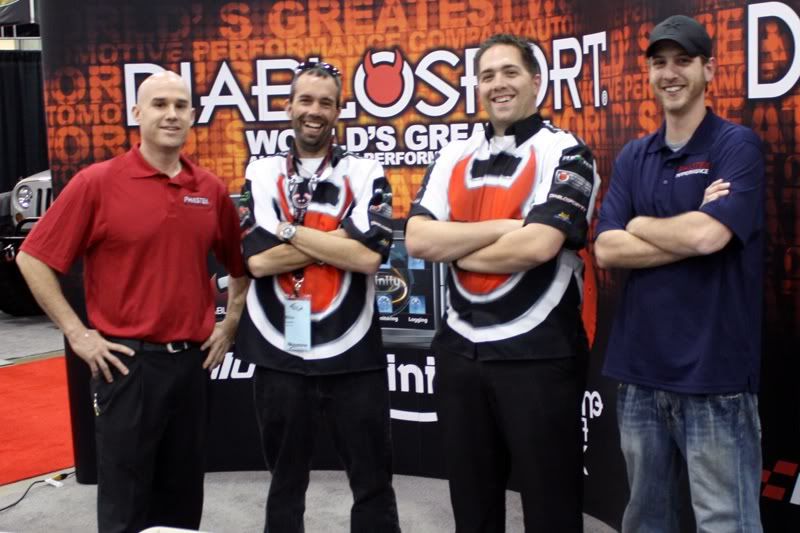 We traveled to Dallas last weekend to check out some of the latest aftermarket performance products at the private Keystone Big Show and wanted to give everyone a look at what's on the market for 2010, check them out below! We also got to spend some time with some of the guys over at DiabloSport going over everything they have to offer for the 2010 Camaro SS and V6 models - and they have some pretty cool announcements coming very soon - stay on the lookout!
DiabloSport
's Predator, Trinity, and the NEW 'InTune' Programmers/Custom Tuners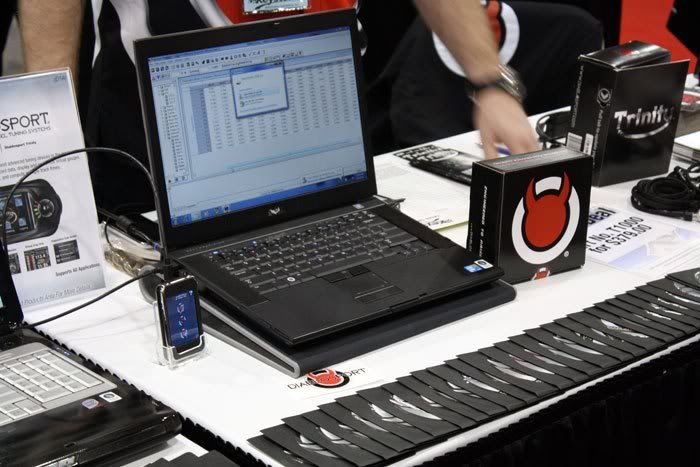 The ever-trusted Diablo Predator tuner, and the newer Trinity T-1000 that has all the same features of the Predator unit, plus a wide range of extra features like Live data logging, and much more. NEW for DiabloSport in 2010 is their "inTune" product - a totally new way to tune your 2010 Camaro!!
K&N
's Cold Air Intake for the 2010 Camaro SS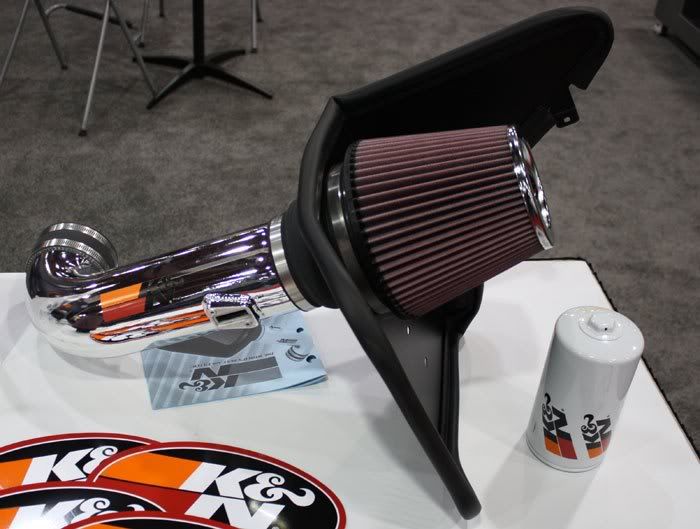 The 69 Series 'Typhoon" Kit - K&N claims +18.12 HP gains @ 5200 RPM. This is a mandrel-bent aluminum tube with a polished finish (not chrome). These units are also available in a black plastic finish from K&N.
Flowmaster
's Cat-Back and Axle-Back Exhaust Systems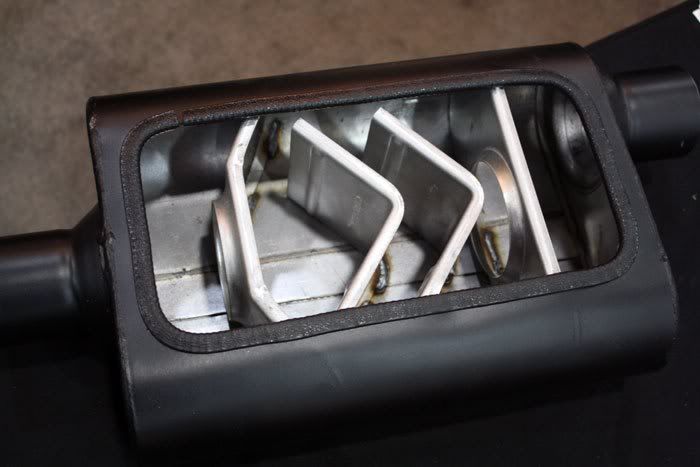 Flowmaster's 3" Exhaust Kit for the 2010 Camaro consists of their Classic 40 Series mufflers to give you that loud, raspy exhaust tone you are looking for! Available in an Axle-Back and Cat-Back Complete Kit! *Specifically designed for the 2010 Camaro using EXCLUSIVE mufflers from Flowmaster - you can't get these off the shelf by themselves!
Magnaflow
's Complete Cat-Back Exhaust Systems!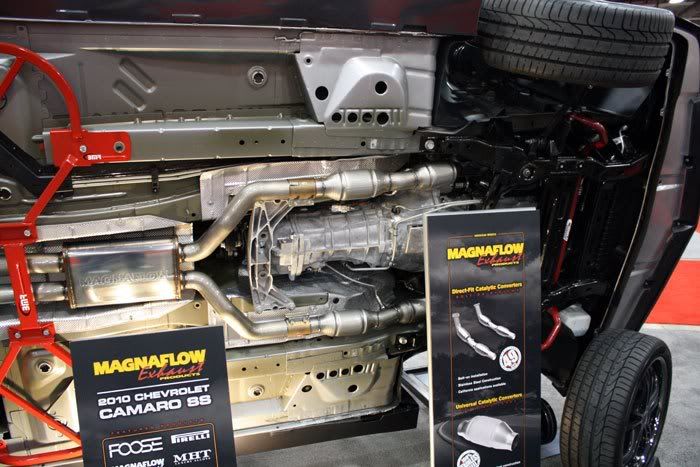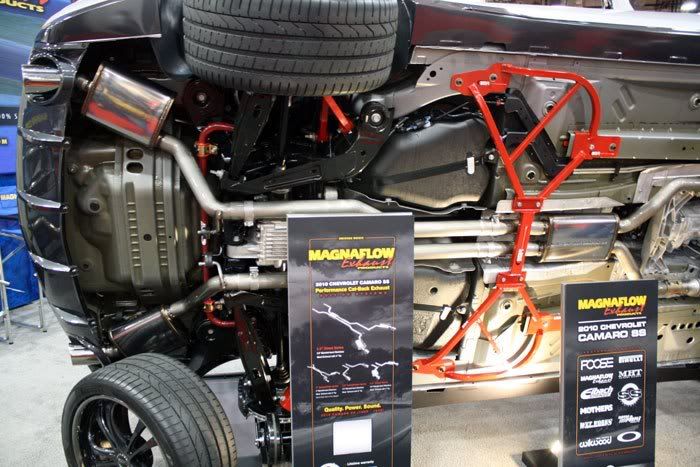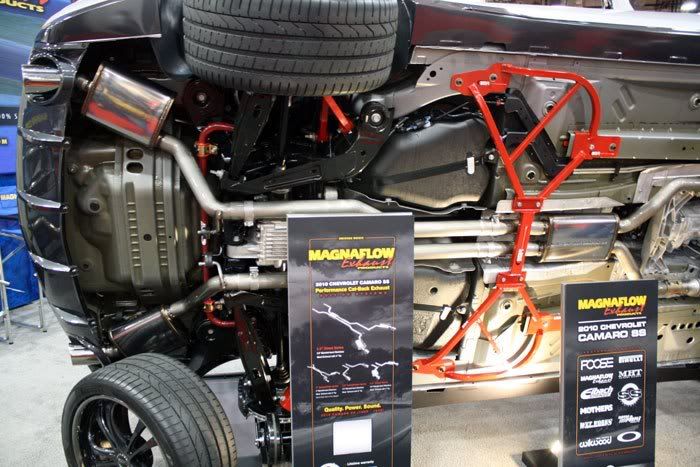 A special feature on Magnaflow's Exhaust Kit for the 2010 Camaro SS is the Built-In X-Pipe in the center-muffler right behind the transmission. Not only does this help generate the best sound quality possible, it also helps free up that extra horsepower! (Shown with BMR Chassis Brace and Eibach Sway Bars (Front & Rear) installed).
MBRP
's 2010 Camaro Exhaust System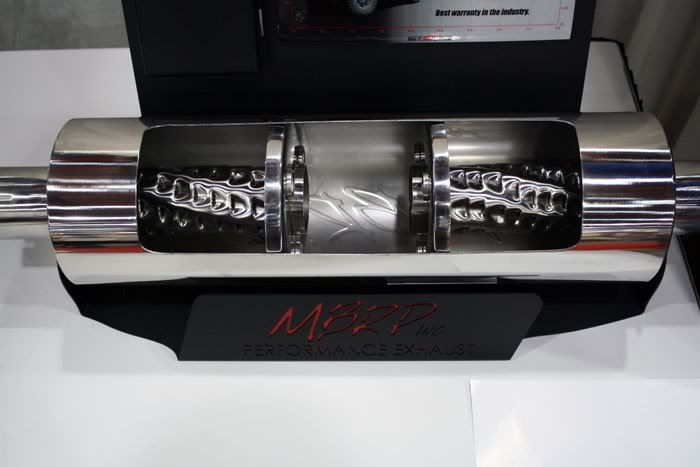 MBRP's Complete 3" Cat-Back Exhaust system for the 2010 Camaro includes a Lifetime Warranty. Look for gains of up to 20 RWHP and 24 Ft-Lbs of Torque at the wheels!
Borla
's 2010 Camaro Exhaust System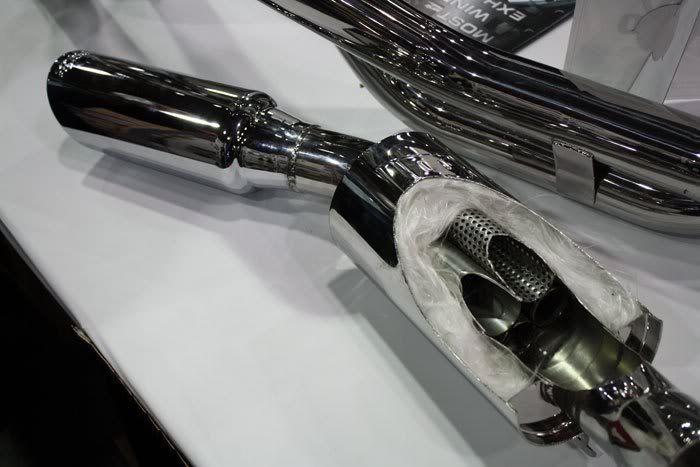 Shown above is Borla's new ATAK series muffler that is audio-engineered for the 'perfect' sound for each vehicle. Look out for these in the future!
Corsa
's 2010 Camaro Exhaust Systems
A cool look at Corsa's patented muffler design. Corsa offers a full line of complete cat-back Exhaust Systems for the 2010 Camaro SS and LS/LT
Hedman Headers
' Shorty Headers for the 2010 Camaro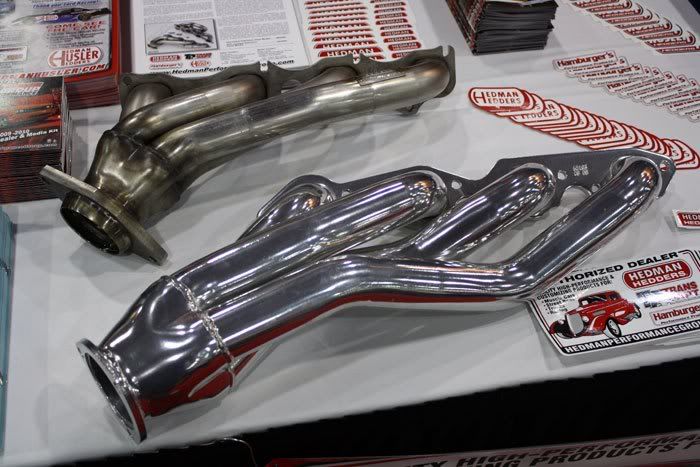 New 1-3/4" Shorty Headers in 304 Stainless Steel - available Ceramic-coated, or uncoated. #62566
Vortech
's Supercharger Kit for the 2010 Camaro SS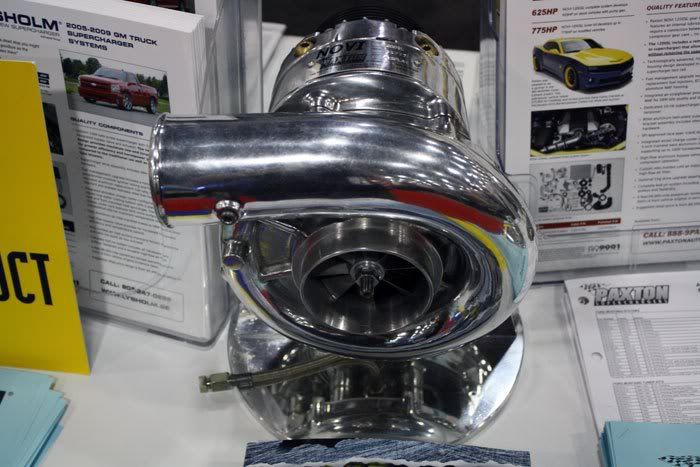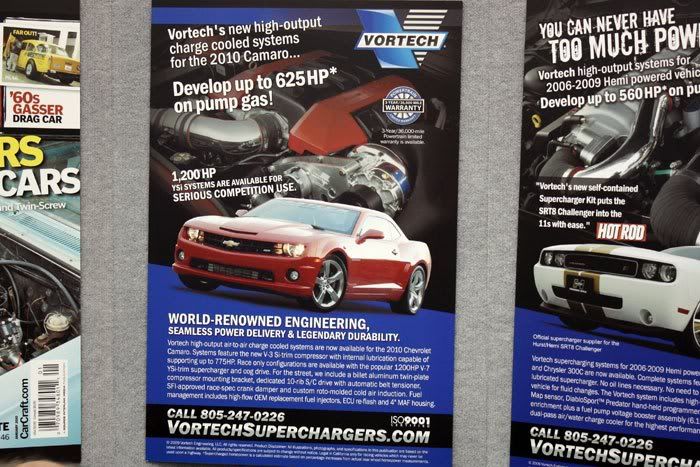 Rated at 625 Horsepower (upgradable to 1200 horsepower), Air to Air intercooled, Comes with a billet ATI Balancer and 10 rib belt for better belt tension
Edelbrock
's E-Force Supercharger for the 2010 Camaro SS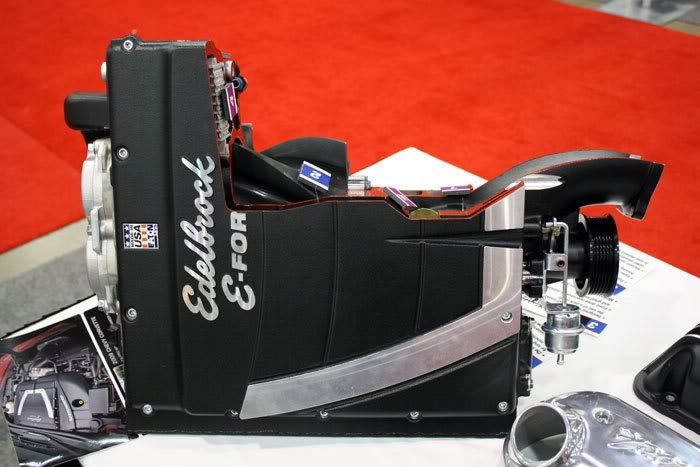 The brand new Edelbrock E-Force Supercharger features the same high-quality Eaton rotos as the Magnuson TVS2300 units. This Edelbrock supercharger has 12 inch long intake runners and comes with a 5 year, 100,000 mile warranty. Available in a Street Legal Kit, as well as Competition Kit for bigger builds. Look for these to be available some time around April/May 2010. Fits under your stock hood. #1597, #1598, #1599Horsepower and Torque numbers coming very soon...