Discussion Starter
•
#1
•
Today's Direct Injection engines and the
intake valve coking issue.
First off lets visit how direct injection works VS traditional port injection systems, the advantages of DI over PI and the unintended issue that has risen and how it affects today's gasoline cars and light trucks.
Port injection, and old carburated applications, the air/fuel mixture would travel into the intake ports of an engine and the fuel spray would coat the intake valves and stems and with the detergent additives of top tier fuels, this prevented deposits from forming on the valves keeping them clean and not effecting the flow, or volumetric efficiency of the port and valve design.
Most have seen the placards on a Shell, Mobil, or other top tier fuel pump showing the effects of not using a good fuel with detergent additives, and these also helped keep fuel injectors clean as well.
Below is a illustration of how a port injection system introduces fuel to the combustion chamber, and you can clearly see how the intake valve is constantly drenched with the detergent fuel to keep them clean:
And, as you can see below, this has been very effective in keeping valves clean. The picture below is of a GM 3.6L LY7 V6 non DI engine with app. 140,000 miles. Note how the valves, and any portion of the intake port that the fuel contacted has been kept deposit free:
Now, these additives also keep the fuel injectors clean as these systems operate at between 45 and 60 PSI so over time, varnish and other deposits can form in the injectors causing incomplete atomization in the spray as well as reduced fuel delivery.
Enter Direct Injection. With DI, the fuel is delivered at 2,000-3,000 PSI so the injectors have very little chance of any build up.....rendering the cleaning properties of top tier fuel pretty much not needed. It also allows for the engine to operate with a much higher compression ratio (11.3:1-11.5:1 vs 9.5:1-10:1) without the danger of detonation that would occur with a PI engine, as the fuel is introduced directly into the combustion chamber in the final 20-30% of the compression stroke, so the air/fuel mixture is only present for milliseconds VS a PI or carburetor where the A/F mixture is drawn in during the intake stroke and is present during the entire compression stroke allowing for the chance of pre-ignition, or detonation which has catastrophic results suck as burnt or melted pistons.
This also allows more power, better fuel economy, from smaller displacement engines, as well as the use of lower octane fuels. We would have never dreamed of running a 11.5:1 engine on any less than 100 octane race fuel in the past....now these engine run fine on 87-91 octane.
Below is an illustration of how a DI system works:
As you can see, the fuel is introduced directly into the combustion chamber and never touches the intake valves so there is nothing to prevent buildup/coking of the intake valves. How serious is this problem? In as little as 3,000 miles a new DI engine has already begun to experience valve coking and power and fuel economy begin to suffer, although most will never notice until 15-20,000 miles when the deposits have accumulated to such an extent that the volumetric efficiency has dropped 10-15% plus from how the engine was designed.
Below are pictures of the same GM 3.6L engines valves at 12,000 miles. Compare with the picture of the LY7 non-DI with 140,000 miles we have earlier in this paper:
And one with only 3,000 miles on it: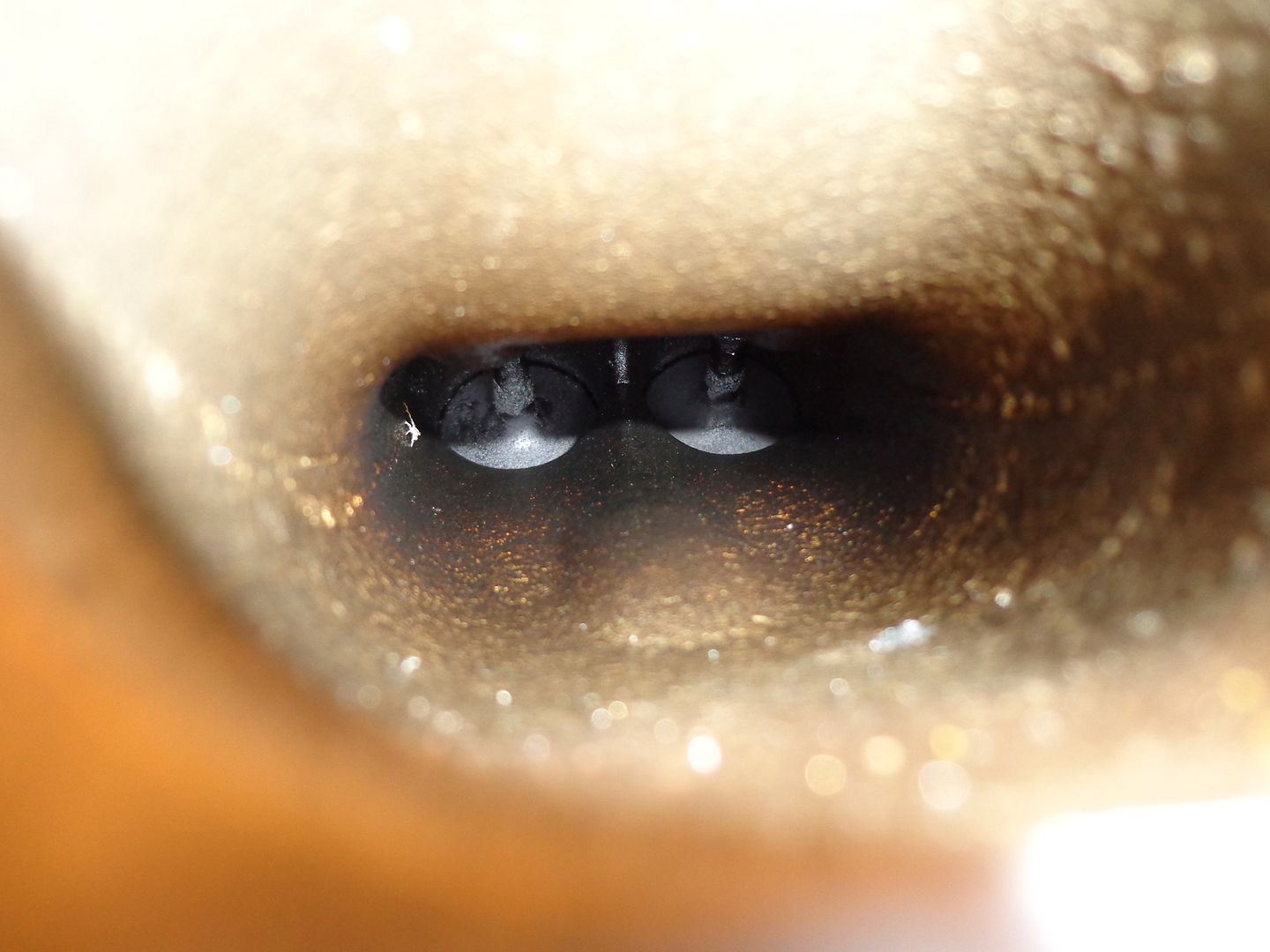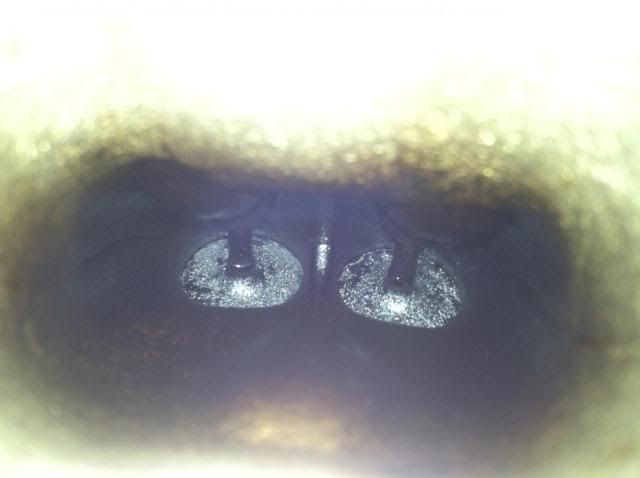 or 20K miles: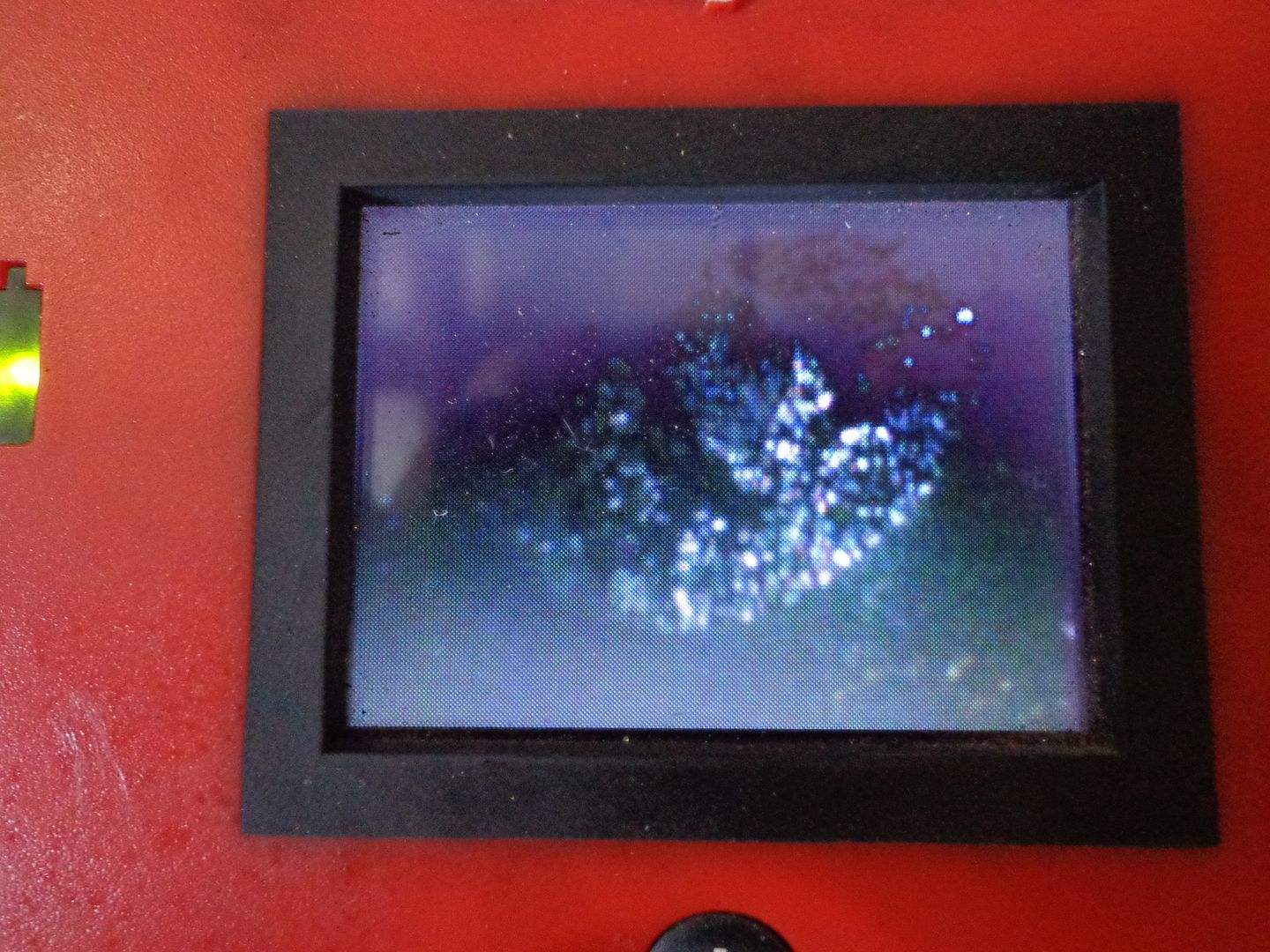 or 50k miles:
This buildup is caused by the oil mist/vapors that are present in the crankcase gasses being evacuated and drawn through the intake manifold and without separating them effectively, the result is an engine gradually loosing power and fuel economy as well as prematurely worn valve guides and other internal engine wear as these hard abrasive particles break loose.
This is NOT a GM only issue, this plagues every gasoline direct injection engine from cars & light trucks to 4 stroke outboards and snowmobiles as well as motorcycles, and it is an issue with every brand auto in the world. Want to see more? Do a Google search on "direct injection intake valve coking" and click on images to see contributions by auto techs from throughout the world and every auto brand there is. NO manufacturer is immune to this! And none seem to acknowledge it is an issue (understandably so as this is a huge problem).
Now the Non DI v8's (as of 2014 GM V8's are now DI as well). Take any PD blower equipped car. Maggie, KB, Whipple, or the LSA & LS( engines where the oil ingestion is coating the intercoolers where the deposits and residue begin to coat and obstruct the air flow through them as well as insulate them reducing the ability to transfer heat and effectively cool you charge air. This is a typical intercooler after only 15k miles of allowing this oil ingestion:
And the issues with buildup on the pistons and ringlands where the oil residue and coking will cause the rings to stick and not seal properly....many have a car that used little oil and now uses more and more:
And for the NA owner, even if you don't have performance mods, (LS3 here) the oil ingestion causes detonation, poor fuel economy, and less power is made than the same engine w/out oil contaminating the combustion chamber: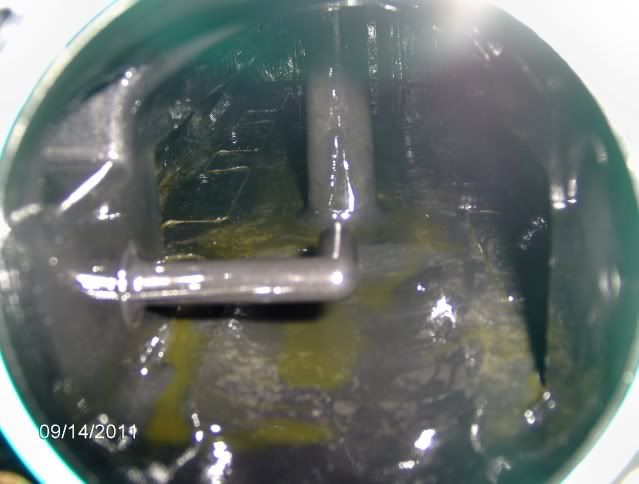 Upper induction cleaning is a good short term fix, but every time you break the deposit loose a small amount of these cause scouring of the pistons and cylinder wall as the small particles get forced between the piston and cylinder wall during the cleaning and this is the result...so do this service sparingly:
After installing one of the few cans that actually stop most or all the oil (most allow as much oil to pass through as they catch, ALL cans will catch oil so you cannot judge effectiveness by how much it catches, it is measured by no oil getting past the can and still entering the intake manifold) you should need one upper induction cleaning and no more.
Now, can you ignore these issues and enjoy your car? Yes.....but why if it is such an obvious determent to the cars fuel economy and performance?
A common comment is "My car runs fine as it is". And that is fine as well. If your not aware of what is going on inside the motor, then the phrase "out of sight, out of mind" or "ignorance is bliss" are good analogies of that mindset, and the vast majority of car owners fall into this and do just fine getting a few MPG less, having the engine consume oil and wear out far sooner than it should, so this is only for those that want to care for their engine the best possible and intend to keep their baby for a while.
Any questions, ask (please keep it civil) and I will answer it all from a technical and engineering view point. Tons of data is available for those that want to learn. :thumbsup: